Mississippi gov pranked in shout-out to high school grads, and more of this week's weirdest news
On a Facebook live session Saturday, Reeves started reading the names of graduates from his alma mater when he came to one his staff now assumes someone submitted as a prank — "Harry Azcrac."
Mississippi gov is pranked in shout-out to high school grads
JACKSON, Miss. (AP) — This one slipped through the cracks.
Mississippi Gov. Tate Reeves asked people to submit names of high school seniors so he could read them aloud on a webcast — a recognition for teenagers who are missing traditional graduation ceremonies because of the coronavirus pandemic.
On a Facebook live session Saturday, Reeves started reading the names of graduates from Florence High School, his alma mater, when he came to one his staff now assumes someone submitted as a prank — "Harry Azcrac." The 45-year-old Republican governor read it, paused briefly and kept going.
A video clip became the butt of jokes on Twitter, and the governor handled it with good humor.
Harry's submitter has a bright future as a Simpson's writer!In 10 minutes we'll be honoring more graduates on Facebook Live. Maybe even Ben—the pride of the Dover family. https://t.co/Njw0GcNCXN

— Tate Reeves (@tatereeves) May 19, 2020
"Harry's submitter has a bright future as a Simpson's writer!" Reeves tweeted, also noting that he would be back online reading more graduates' names: "Maybe even Ben — the pride of the Dover family."
Reeves spokeswoman Renae Eze said Wednesday that the governor's staff spent hours grouping almost 10,000 individually submitted names by school. As for Harry Azcrac, she said: "We can probably say it's not a real person."
—By EMILY WAGSTER PETTUS Associated Press
Bouncing back: Restaurant debuts 'bumper tables' amid virus
OCEAN CITY, Md. (AP) — Diners in a Maryland beach town are bouncing back into dining out amid the coronavirus pandemic with a little help from inflatable inner tubes on wheels.
About a dozen of the so-called "bumper tables" were rolled out at Fish Tales, a restaurant in Ocean City, Maryland, on Saturday, news outlets reported. The inflated tube tables were created by Baltimore-based company Revolution Event Design & Production to allow people to practice social distancing while eating and talking in outdoor settings.
The devices feature a hole in the middle to accommodate people around 4 to 6 feet (1 to 2 meters) tall. Participants get a little spring in their step with wheels attached to the bottom for moving around — all while maintaining a 6-foot (2-meter) distance from each other.
"We wanted to come up with a creative and fun way to keep everyone safe and compliant, but still bring back the social and festive and party aspect of the event," Erin Cermak, the CEO of Revolution Event Design & Production, told the Baltimore Sun.
Shawn Harman, the owner of Fish Tales, said he and his wife have purchased 10 bumper tables from Cermak's company. Harman said he plans to order 40 more tables so customers can enjoy their food and remain distanced while dining in the restaurant's parking lot.
"If you come in to get a pound of shrimp and a beer, you can stand in one of these and walk around and look at things and talk to people," Harman said. He said the reception to the bumper tables was positive when his family and friends took them out for a trial run outside his restaurant Saturday.
"There are other restaurants in other parts of the country that have contacted us to get information to order them," Harman said.
Cermak, who is the cousin of Harman's wife, told the Baltimore Sun that many restaurants, cafes, and even a sports franchise have contacted her after news outlets reported on the tables. She said her company can customize them for businesses and also rent them out per day.
Virginia family out for ride finds nearly $1 million in road
FREDERICKSBURG, Va. (AP) — A Virginia family out for a ride to get a change of scenery after being holed up due to the coronavirus found nearly $1 million in two bags lying in the road.
David and Emily Schantz left their Caroline County home with their children last Saturday and drove their pickup truck over what they thought was a bag of trash, then stopped and picked it up as well as another bag nearby, news sources reported Tuesday. The Schantzes tossed the bags in the back of their pickup truck and kept riding, according to Emily Schantz.
Only when the Schantzes returned home did they discover the bags contained money, she said.
"Inside of the bag, there were plastic baggies and they were addressed with something that said 'cash vault,'" Schantz told WTVR.
They contacted the Caroline County Sheriff's Office, which sent deputies to the home. The deputies took inventory and determined the money totaled nearly $1 million.
Caroline Sheriff's Maj. Scott Moser said authorities have since determined where the money was headed, but are still trying to figure out how it ended up in the middle of a road in Goochland County. Moser would not say specifically where the money was going. But he said he hopes the recipients offer the Schantzes a nice reward.
"Their actions deserve nothing less," Moser said. "They saved someone a lot of money and set a wonderful example for everyone else."
Boy, 6, cracks open robbery case by reeling in sunken safe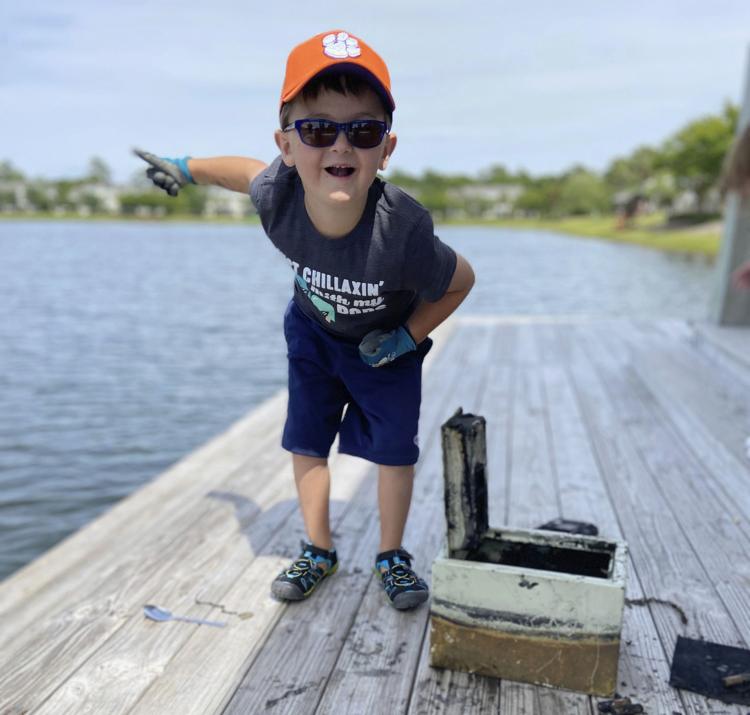 JOHNS ISLAND, S.C. (AP) — A 6-year-old boy helped crack open a nearly decade-old robbery case when he reeled in a locked safe from the bottom of a South Carolina lake.
Knox Brewer of Johns Island took up "magnet fishing" and began hunting for metal objects underwater as a way to pass time during the coronavirus pandemic, his family members told WCIV-TV this week.
The boy was out with his family at Whitney Lake this month when the magnet attached to his line stuck to something heavy in the mud below, the news outlet reported. With the help of a bystander, Knox pulled in and pried open what turned out to be a waterlogged lockbox containing debris-covered jewelry and credit cards, as well as a checkbook, according to a video of the discovery.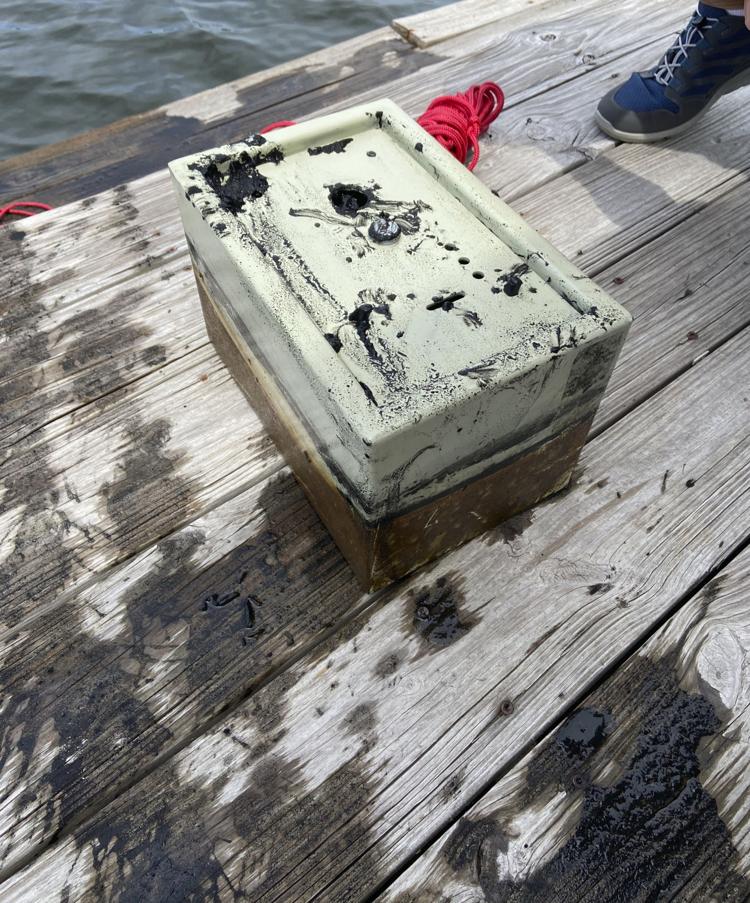 "I knew the right thing to do was go ahead and call the local authorities, get them involved and try to solve this mystery," the child's father, Jonathan Brewer, told the outlet.
Authorities determined the sunken safe belonged to a woman who lived across the street from the lake. She said it had been stolen from her home eight years ago, the outlet reported.
While most of the expensive items had been taken, the find still turned out to be a valuable catch, according to the Brewers. They said they were able to reunite her with charms from an old bracelet.
"The first thing that she did was just kneel down, hug Knox and thanked him and thanked him for bringing that closure to her," Jonathan Brewer said.
Moose family reunion: Trooper brings calves, mom together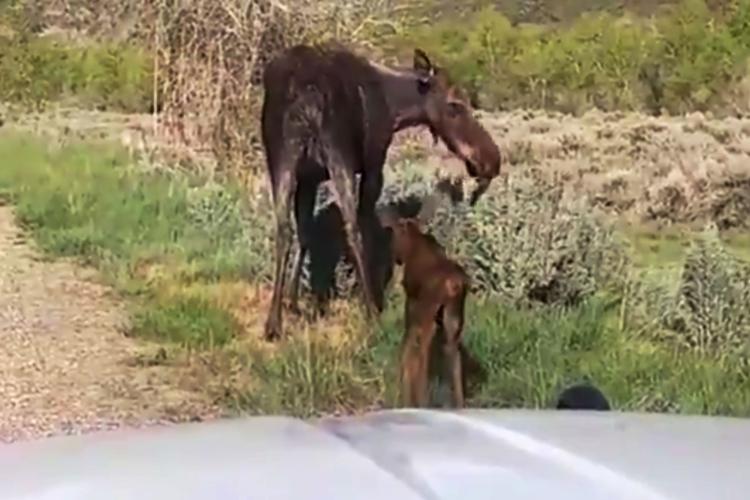 HEBER CITY, Utah (AP) — A Utah state trooper has helped a pair of newborn moose calves reunite safely with their mother after spotting them on a mountain road.
The trooper noticed the hours-old calves without their mother on the road as he drove home from work, about 45 miles (70 kilometers) east of Salt Lake City on Monday, said Utah Highway Patrol Sgt. Nick Street. It's not clear how they became separated.
Worried they could be hit by a car, trooper Alexander Agin stopped and put up a traffic barrier. Once he was out of his car and walking, the baby moose began to follow him. So Agin decided to guide them away from the traffic danger.
Just as he led them off the road, the calves' mother arrived — and began to charge him.
"He knew not to be getting between those calves and their mother," Street said. Agin quickly retreated to his patrol car and recorded a quick video of the moose family reuniting and walking into the trees.
Wanted: Loving home for 53-year-old tortoise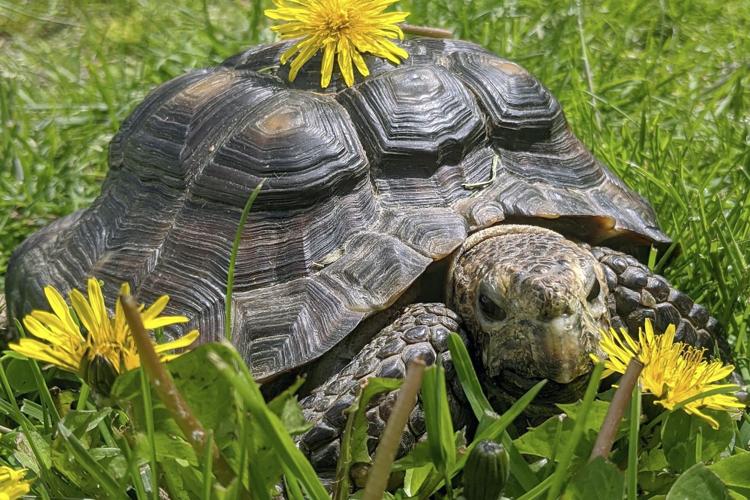 BOSTON (AP) — Wanted: Loving home for a middle-age tortoise that loves fruit salad, dandelions and sunshine.
MSPCA-Angell, a Boston animal welfare organization, has put a 53-year-old tortoise named Ms. Jennifer up for adoption because the owner recently died of COVID-19.
She is likely the oldest animal the organization has ever offered for adoption, spokesman Rob Halpin said in a statement Thursday.
Ms. Jennifer weighs four pounds and is about the size of a dinner plate. Anyone interested in adopting her has to be in it for the long haul, because tortoises can live to be 100 or older, the organization said.
The tortoise is the 10th animal to be surrendered to the Massachusetts Society for the Prevention of Cruelty to Animals whose owners have either died of COVID-19 or become too ill to care for their pets.
"Like we do for every animal in our charge, we'll take the best possible care of Ms. Jennifer until we find her a suitable adoptive home," Victoria Odynsky, manager of MSPCA-Angell's adoption center, said in a statement.
Ms. Jennifer celebrated her 53rd birthday this week with a dandelion cake.
Baby goat stolen from Baltimore garden reunited with owners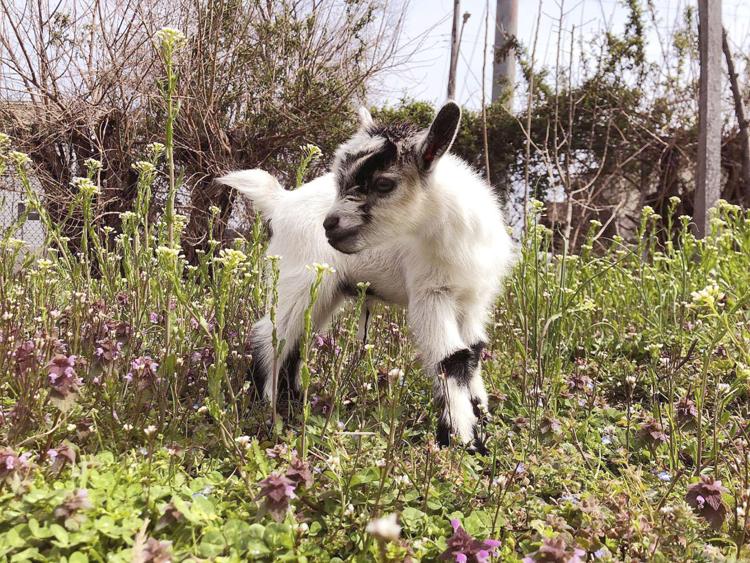 BALTIMORE (AP) — A stolen baby goat was returned home to its community garden in Baltimore late Tuesday night, police said.
Baltimore police were notified just before 10 p.m. that the young Nigerian Dwarf goat named Ed had been "anonymously returned" to his owners, according to a statement from the department.
Stolen Goat Returned  On May 19, 2020, at about 9:52 p.m., Southern District was notified that the baby goat stolen earlier that morning from the 1300 block of Filbert Street was anonymously returned.The owners are overjoyed and thankful that Ed is home safe and unharmed. pic.twitter.com/Ijw51rfRSv

— Baltimore Police (@BaltimorePolice) May 20, 2020
Ed was reported missing from the Filbert Street Garden on Monday night. His caretakers alleged in a Facebook post that two teenagers tore through a fence, cut off a lock and broke into a barn to steal the animal, which weighs just 20 pounds (9 kilograms) and depends on his mother's milk to survive.
"We're not sure if the hope is to sell him or if it is part of some initiation," the Filbert Street Garden post said. "The community begs whoever did this to please just quietly return Ed." The post said he's not old enough to wean from his mother and could die if not returned.
Security video obtained by WBAL-TV appeared to show someone walking down the street with the goat in a crate as the animal cried out.
In an update Tuesday, the garden celebrated Ed's safe return and thanked police for their help. Authorities did not say whether they were continuing to investigate or were actively looking for suspects.
Tags