Finnair is selling its airplane food in grocery stores, and more of this week's weirdest news
What do you miss most about air travel? Is it the thrill of the take off? The excitement of arriving in a new country? Or perhaps you're daydreaming about something more unexpected — airline food.
Finnair is selling its airplane food in grocery stores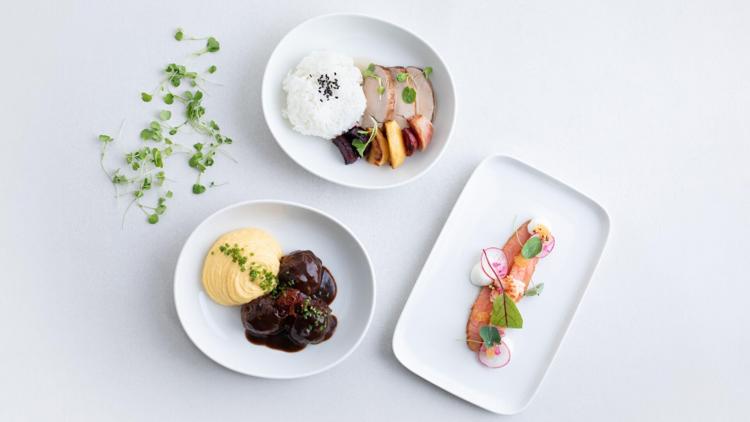 What do you miss most about air travel? Is it the thrill of the take off? The excitement of stepping off the aircraft and arriving in a new country?
Or perhaps you're daydreaming about something more unexpected -- airline food.
Assuming that would-be-fliers might be missing fine dining at 30,000 feet, Finnair is bringing a taste of air travel to the ground.
In a new business venture, the Finnish airline has started selling ready-made meals inspired by its Business Class offerings in a grocery store in the city of Vantaa, Finland.
Head to K-Citymarket in Vantaa's Tammisto neighborhood over the coming weeks and you can purchase pre-packaged reindeer meatballs, smoked char and chanterelle risotto and other Finnair meals.
Marika Nieminen, VP of Finnair Kitchen, tells CNN Travel the initiative aims to satiate the appetite of Finns who're missing air travel -- and allow the airline to bring back some of the Finnair Kitchen staff who were laid off when the pandemic hit. Nieminen says they've been able to rehire roughly 10 employees for the project.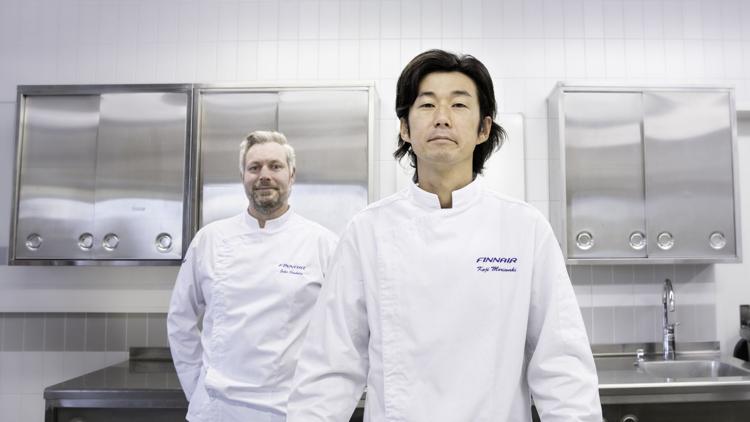 Expanding project
Finnair tested the concept internally first, selling the food to airline staff.
When that proved popular, the airline took the idea to K-Citymarket in Tammisto, Vantaa. The grocery store is located super close to the Finnair Kitchen headquarters.
After launching the meals in Vantaa on October 15, Finnair plans to expand to other K-Citymarket stores across Finland, and maybe even beyond.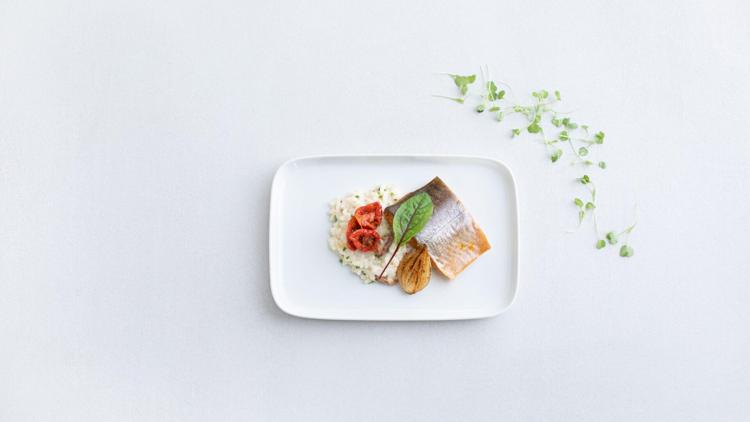 The airline reckons its specialty food options -- contemporary Nordic offerings infused with a Japanese flair -- could have an international appeal too, although Nieminen caveats it's still early days.
"The quality of the food is really something that we are proud of," says Nieminen.
Finnair was also keen to give passengers who usually opt for Economy plane tickets a taste of the Business Class experience.
Currently, there are two main course options available to buy daily -- and each weekend there will be an appetizer on offer too.
The menu will change every two weeks.
For this fortnight, the main courses are 12,90 euro (roughly $15) and the starter is 5,90 euro ($6.90).
When CNN Travel spoke with Nieminen, only a couple of hours after launch, she said 100 meals had already been snapped up.
Other airlines have also been experimenting with bringing the airplane experience to grounded aviation fans.
Qantas recently put several bar carts that were recently removed from 747s on sale, stocked with alcohol, first class pajamas and other goodies. They've since sold out.
Meanwhile, Singapore Airlines launched a pop-up, aviation-themed restaurant at Singapore Changi Airport, creating a dining experience on board an Airbus A380. Initial reservations were snapped up in 30 minutes.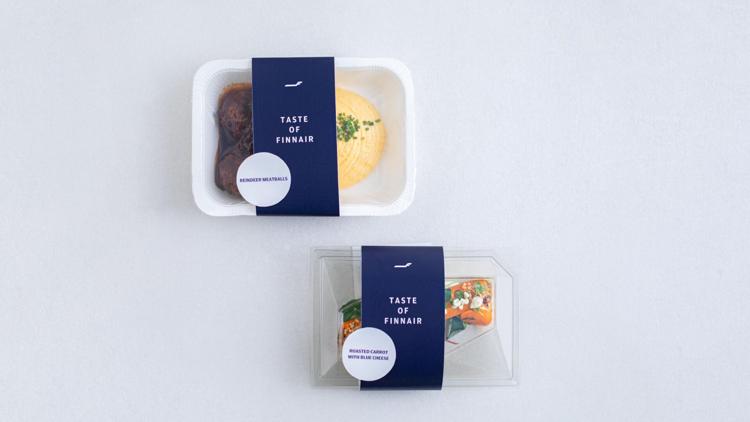 Authorities: 37 pounds of meth found in driver's spare tire
FOREST, Miss. (AP) — Law enforcement officers who pulled a driver over for a traffic violation in Mississippi allegedly discovered about 37 pounds of methamphetamine hidden inside a spare tire stashed in the vehicle.
The Scott County Sheriff's Office and the Flowood Police Department stopped a pickup truck along an interstate near Flowood early this month after spotting it driving in a "careless manner," according to the agencies.
An officer conducting the stop discovered a tire in the bed of the truck, and inside it, an assisting deputy found 37.5 pounds (17 kilograms) of methamphetamine worth an estimated street value of $350,000, WLBT-TV reported, citing the authorities.
The driver was charged with aggravated trafficking in methamphetamine, Scott County Sheriff Mike Lee said.
The suspect was not immediately identified and it was unclear whether they were being held in custody.
A tiny boat was discovered on a remote beach 27 years after it was launched by teachers
A mystery from Lake Superior has been solved, after a tiny boat ended up on the remote shores of one of the Great Lakes.
The red, white and blue vessel was found at a remote area on Apostle Islands National Seashore in Wisconsin with a very intentional message on the bottom.
"I am traveling to the ocean. Please put me back in the water. Will you send information on your whereabouts to: Lakewood School Room 116 & 118 5207 N. Tischer Duluth, MN (scribbled out zip code) 53304," the message reads.
There was no date, and no one knew where it came from until the school did a little digging.
It turns out two teachers, Brenda Schell and Bonnie Fritch, did a lesson on the book "Paddle-to-the-Sea" in 1993 and 1994 and two wooden boats were part of the lesson.
"We mapped out the travels of the canoe through the Great Lakes," Fritch told the school, Duluth Public Schools ISD said in a recent Facebook post.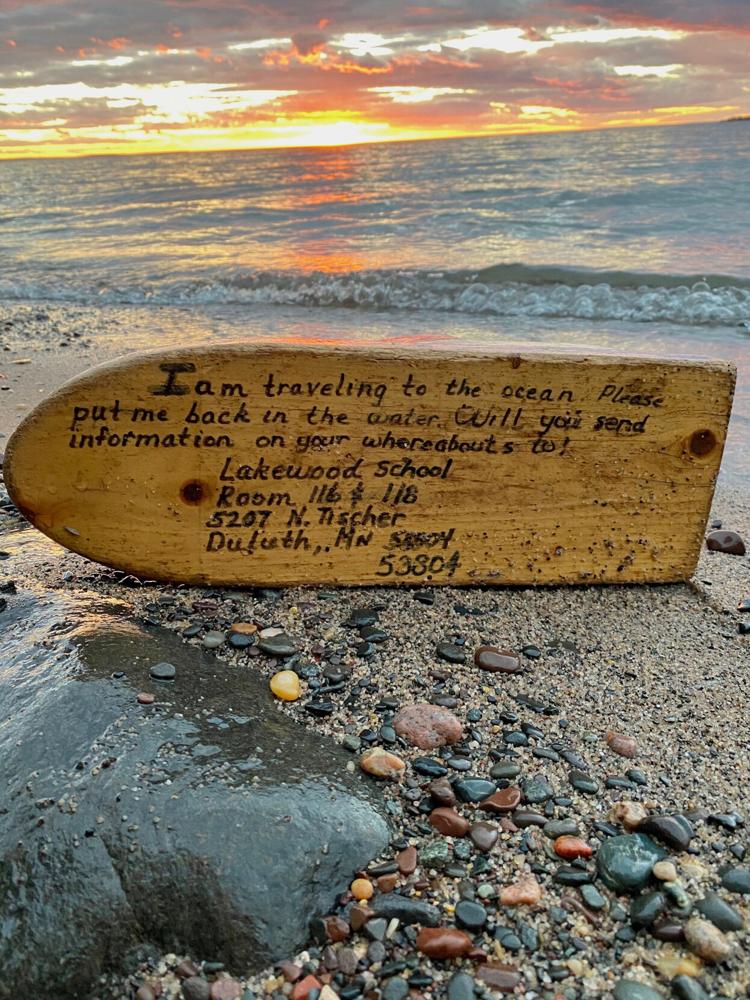 "A friend of Brenda's made the boats for us and our classes painted them and added the message to the bottom. On our end of the year field trip for our Duluth unit we stopped at Brighton Beach to launch the boats."
After almost 27 years, the boat was still in good shape making its way around the lake though, obviously, it's not known where it was the entire time.
"I am not sure what happened to Brenda's boat but mine was spotted a year later up the North Shore. The people put a second coat of varnish on the boat and relaunched it. I thought we wouldn't hear any more about it. Amazing it is still out there," Fritch added.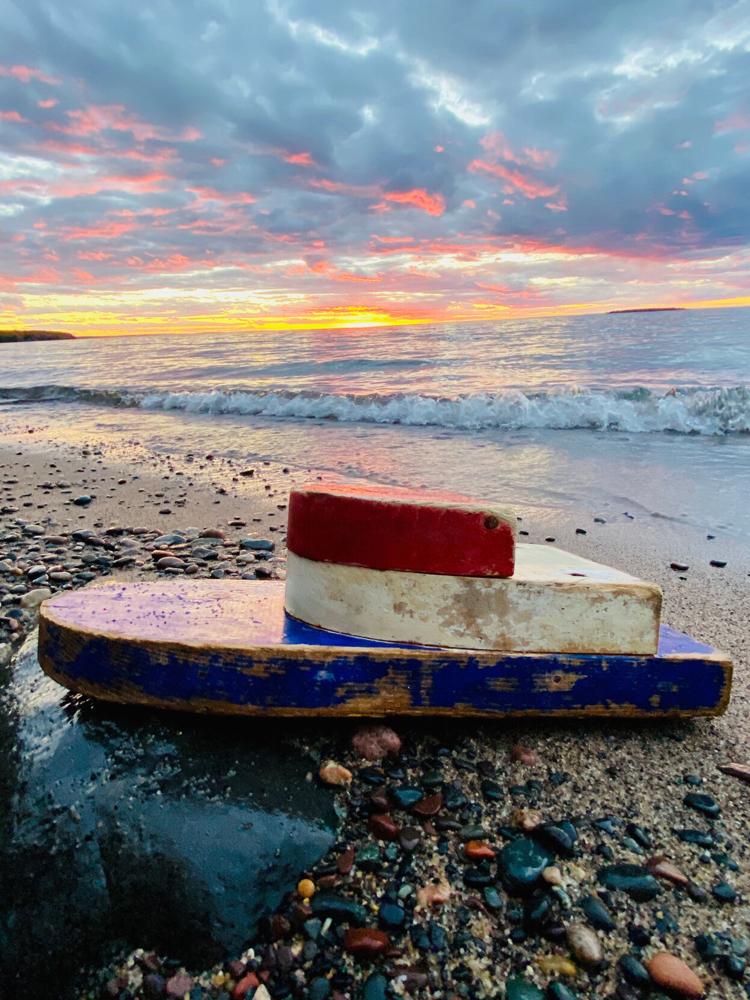 Lynn BeBeau and her husband were the ones who discovered this little wooden boat while out hiking on the lakeshore across from Eagle Island.
"It was a very fun and unexpected -- extremely -- unexpected discovery," BeBeau told CNN.
"We decided we wanted to go check out this area and my husband sees this red wood sticking out. He goes to pick it up and it's this crazy little boat!"
She said they didn't expect it to be as old as it was. They assume a storm put it on that beach years ago, based on how protected the area is from the elements.
"That little boat took on a journey of its own," BeBeau said.
After taking photos that are on the They released the boat back into the water like the inscription instructed, but the experience left BeBeau with a sense of wonder and greater appreciation for the unknown.
"You just never know what you are going to find, so get out there and explore because there is stuff to be found," she said.
Minnesota man wins the 'Super Bowl of Pumpkins' with 2,350-pound pumpkin named The Tiger King
A Minnesota man and his gigantic gourd are reigning royalty after taking home top prize in a Northern California pumpkin-growing competition.
Travis Gienger won first prize in the 47th annual Safeway World Championship Pumpkin Weigh-Off in Half Moon, California, on Monday for his 2,350-pound pumpkin, according to contest officials.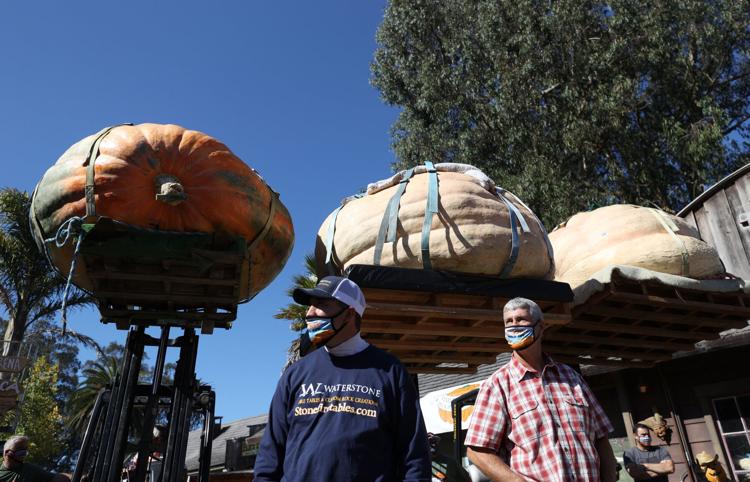 The champ took home $16,450 in prize money, receiving $7 per pound in a "pay-by-the-pound" system.
The contest congratulated Gienger in a social media post giving him the title of the 2020 Pumpkin King of Half Moon Bay.
According to contest officials, the massive gourd made a record as the heaviest grown pumpkin to be weighed in North America this year.
Gienger named his winning pumpkin after the popular Netflix series "Tiger King" when he noticed it might have striped coloring.
"It was kind of funny deciding the name for this little, little pumpkin at the time," he said. "I noticed that it might be orange with white stripes and my brother goes, 'Oh it's 2020. We should name him Tiger King.' And I thought that's great!"
The name was popular at the competition with many cheering The Tiger King on to victory.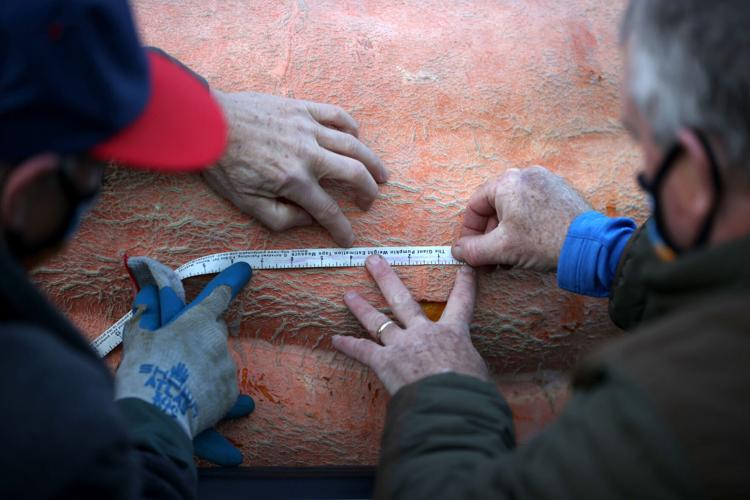 Gienger says he took extreme measures to keep the giant pumpkin intact while transporting it on a 35-hour drive from Minnesota to Half Moon Bay, including building a special palette for his trailer, wrapping the pumpkin in blankets and pool noodles to keep it from getting scratched, and throwing dirt in the back to keep the vines watered so it wouldn't lose as much weight.
"People were wondering what we were hauling when we stopped at the gas station and we had to throw buckets of water on it. It was kind of funny," he said.
It was his first year entering the competition at Half Moon -- although he is not new to growing giant pumpkins. About 25 years ago, he grew a 447-pounder. He decided to enter the competition at Half Moon this year because it's known as the "Super Bowl of Pumpkins," he told CNN.
The competition offered a special $30,000 mega prize this year to any grower who broke the world record of 2,624 pounds that was set in a weigh-off in Germany in 2016. No one at the Half Moon Bay competition broke the world record this year, according to contest officials.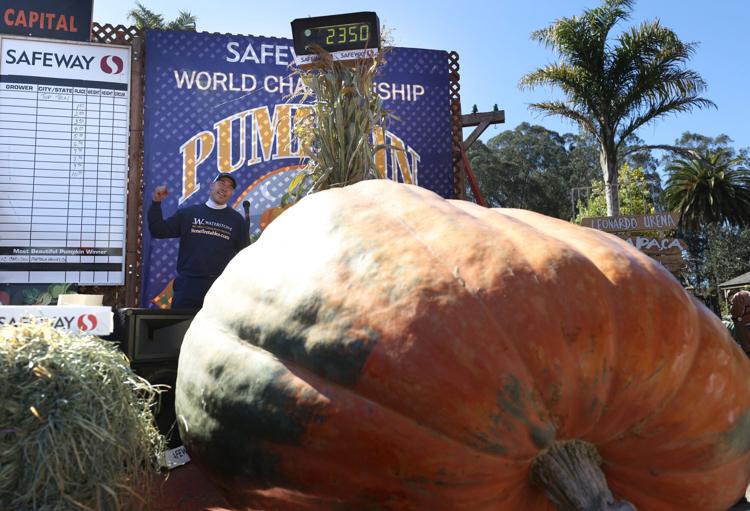 On each Columbus Day since 1974, growers gather in Half Moon Bay from around the country to compete for the title and cash prize in the pumpkin weigh-off, according to the contest website.
Gienger told CNN he felt honored to win.
He had been working all season toward the competition, so the winning moment was "quite a joy," he said. He is undecided on whether he will reenter the contest next year to beat his new record.
SC law school dean accidentally reveals who failed bar exam
COLUMBIA, S.C. (AP) — The dean of South Carolina's largest law school is apologizing for forwarding an email that contained the names of students who failed the exam to become a lawyer and the confidential bar exam grades of every student.
University of South Carolina School of Law Dean William Hubbard said he was so excited last week when he got the official email that 82% of his students passed that he forwarded it without noticing the attachments that were supposed to remain private.
"It was totally an accident, an accident I deeply regret," Hubbard told The State newspaper. "I've sent a personal email to every one of those students, and I've had an email dialogue with some of them and some phone conversations and plan to make myself available to any student who wants to meet."
Names of students who fail the bar exam are supposed to never be published and scores for those who passed are not revealed.
Hubbard said he thought he was just forwarding a letter with the overall results for the school.
Hubbard took over as dean of the law school in August. He was once on the university's Board of Trustees and is a former president of the American Bar Association.
Rudolph and his nose-so-bright into auction will take flight
LOS ANGELES (AP) — Rudolph and his still-shiny nose are getting a new home, and it's bound to be a lot nicer than the Island of Misfit Toys.
The soaring reindeer and Santa Claus figures who starred in in the perennially beloved stop-motion animation Christmas special "Rudolph the Red Nosed Reindeer" are going up for auction.
Auction house Profiles in History announced Thursday that a 6-inch-tall Rudolph and 11-inch-tall Santa used to animate the 1964 TV special are being sold together in the auction that starts Nov. 13 and are expected to fetch between $150,000 and $250,000.
Collector Peter Lutrario of Staten Island, New York, thought they might be the only items he would never sell, but when he recently turned 65 he thought about having something to leave for his children and grandchildren.
"I always said I would die with the dolls," he told The Associated Press. "I'm just putting the family first."
The figures were made by Japanese puppet maker Ichiro Komuro and used for the filming of the show at Tadaito Mochinaga's MOM Productions in Tokyo.
They're made of wood, wire, cloth and leather. Rudolph's nose, after some minimal maintenance through the years, still lights up. The realistic bristles of Santa's beard are made from yak hair.
Lutrario, who bought them about 15 years ago after seeing them appraised on "Antiques Roadshow" on PBS, says that even after well over five decades you can manipulate them as the original animators did.
"They're still malleable," he said, "and it's very detailed. Not only can you move the arms, the legs, the head, you can move the fingers, the thumbs.
The show, produced by the company that would become Rankin/Bass Animated Entertainment, first aired Dec. 6, 1964 on NBC in the United States. It's been a TV staple ever since with its tale, based on the 1939 song, of a year when Christmas was almost canceled, the misfit reindeer who saved it, an elf with dreams of being a dentist, and an island full of cast-away toys.
The figures would make their way to the New York offices of Arthur Rankin Jr. and Jules Bass. Rankin later gave them to his secretary, who gave them to her nephew, who owned them until Lutrario bought them in 2005.
The figures, among several used to make the special, are the first encountered by the auctioneers at Profiles in History, which specializes in selling rare and coveted Hollywood memorabilia.
The company said in a statement that the "rarity of these puppets cannot be overstated."
As featured on
Adobe's popular photo-editing software has long been used to manipulate media, and it's becoming more difficult to tell what's real from what's Photoshopped. The company is trying to do something to fix this.