This week in weird news, a German man put out a car fire with beer, and a deer kicked a woman who was pumping gas.
Officials: Drone dropped cell phone and weed into jail yard
CLEVELAND (AP) — Police in Ohio have released video they say shows an inmate collecting contraband dropped by drone over a county jail's outdoor exercise yard.
Cuyahoga County officials released the video Tuesday.
The security video shows an inmate in an outdoor area at Cuyahoga County Jail's complex in Euclid (YOO'-klid) looking up at something off camera. He later attempts to catch an item falling above him. He misses and collects the item from the ground and walks out of view.
Authorities say the dropped parcel contained a cellphone and loose leaf marijuana.
The county sheriff's office launched an investigation and has turned the case over to prosecutors.
Oh deer! Georgia woman pumping gas kicked in head by deer
JACKSONVILLE, Fla. (AP) — A Georgia woman went to fill up her gas tank before work when a deer leaped over her head, kicking her in the process.
Lynda Tennent told WJXT-TV she was pumping gas in Brunswick, Georgia, on Wednesday when the incident occurred.
Tennent says she thought she was being robbed. The animal's hoof hit when she wasn't looking.
She says she stood there for a minute to process what happened. She didn't say whether she suffered any other injuries.
Despite everything, she told the television station she was still in good spirits.
Tennent says the deer ran off.
Egg roll: Over 136K eggs fall off semitrailer onto roadway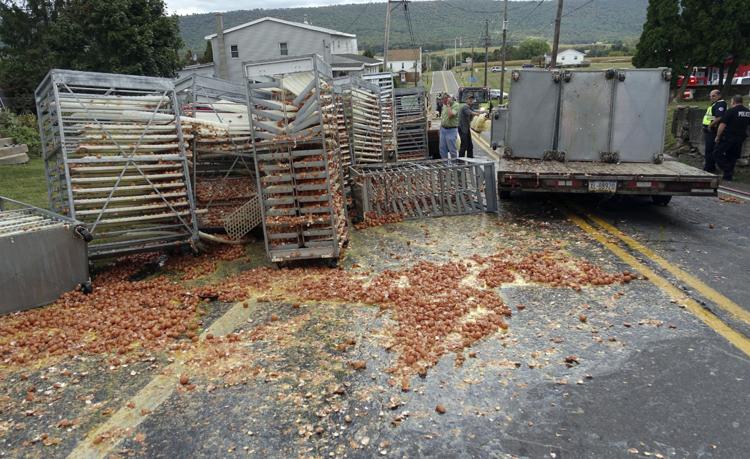 HEGINS, Pa. (AP) — Police say more than 136,000 eggs splattered on a road when they shifted and fell out of a tractor-trailer driving through Pennsylvania.
The Republican Herald reports 11,340 dozen eggs and 2,260 gallons of egg product were ruined when a 66-year-old driver lost control of the rig Tuesday.
Hegins Township police say Miles had just picked the eggs up at Carl Faus Farm and was on his way to Elizabethtown, Pennsylvania.
Police say Miles was driving north on Route 125 uphill. As he approached the Route 25 intersection, the load shifted causing the eggs and egg products to fall and roll down the hill.
Miles reportedly did not realize the eggs had fallen and continued his drive.
A section of Route 125 was closed for several hours after the incident.
An investigation into the unsecured load is ongoing.
Virginia woman praised for saving injured baby squirrel
PULASKI, Va. (AP) — Police are praising a Virginia woman who says a squirrel led her down a trail and tugged at her leg to help its injured baby, earning her the nickname "squirrel whisperer."
Pulaski police said on their Facebook page that officers got a call Sept. 20 from a woman who told them a squirrel approached her on a trail, blocked her path and led her to the baby squirrel with an injured leg.
Tia Powell told police that when she tried to walk away, the squirrel tugged on her pants leg. That's when she realized a cat was ready to attack the squirrels, so she called police and a friend.
The news release says responding officers found the squirrels sitting with the two women, who got them back in their tree.
Bottoms up, fire's out: German man douses fire with beer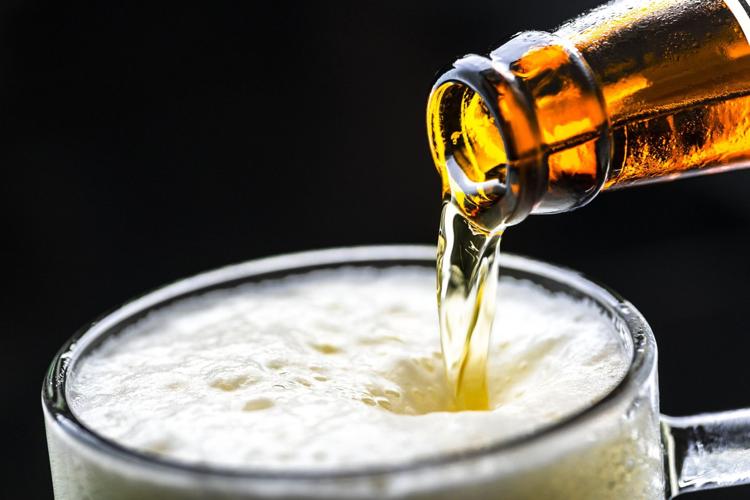 BERLIN (AP) — A German motorist is being credited for his quick thinking after his engine caught fire on the Autobahn. He turned to a slightly different foam extinguisher to douse the flames: bottles of beer.
Police told the dpa news agency Wednesday that the man was on the highway near the town of Hoesbach in Bavaria the day before when he smelled something odd.
Pulling over, the man spotted flames under the hood of his car. He quickly grabbed bottles of beer from a case in his car and quenched the fire.
Authorities say the fire department responded but there was nothing left for them to do.
Authorities: Truck stop camel sits on woman who then bites
GROSSE TETE, La. (AP) — Authorities in Louisiana say a camel at a truck stop petting zoo sat on a woman after she crawled into its enclosure.
Iberville Parish Sheriff's officials told The Advocate on Sunday that the Florida woman's husband had been throwing treats to their dog under the camel's fence. Their dog went into the enclosure and the woman crawled under barbed wire to retrieve the pet.
That's when the 600-pound (272-kilogram) camel sat on her. She told deputies she bit the camel to free herself. The woman was brought to a hospital.
Deputy Louis Hamilton Jr. said the couple provoked the camel and cited them for a leash law violation.
Tiger Truck Stop is about 16 miles (26 kilometers) outside of Baton Rouge and keeps Caspar the camel as an attraction.
Health care company sends woman over 500 letters in 5 days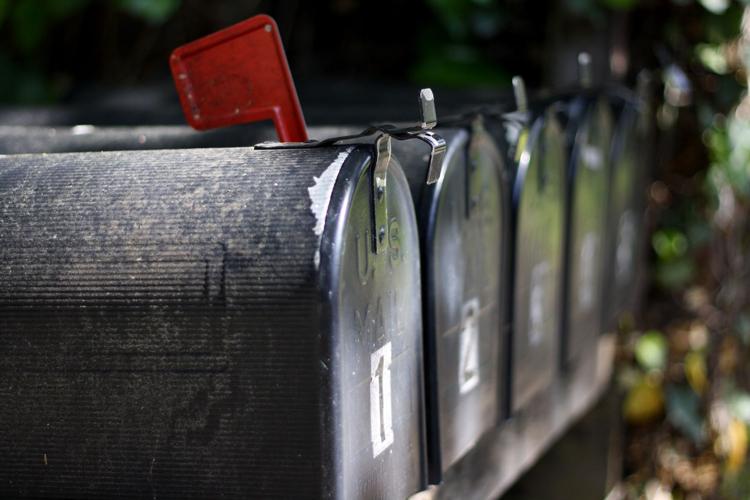 WINDHAM, Maine (AP) — A Maine woman says she received more than 500 letters from UnitedHealthcare in five days.
The letters were sent to Stephanie Lay's 19-year-old son Bryce in Windham, but were addressed to Maine's Department of Health and Human Services — in Cincinnati, Ohio.
WCSH-TV reports most of the letters said the company was denying a payment of $54. Some say $0. The claims go back to 2016. Lay began receiving the letters Thursday.
Lay first thought it was a joke. She says she's spent countless hours trying to figure out how this happened.
Lay says she was especially amused by a line written at the bottom of every single one of the letters that says, "Go Paperless!"
A spokeswoman for UnitedHealthcare says the company is looking into the issue.
2 stolen vehicles crash into each other in Mississippi
JACKSON, Miss. (AP) — Police in Mississippi's capital city say two stolen vehicles have crashed into each other.
News outlets report the crash happened before dawn Tuesday near downtown Jackson. One of the vehicles left and crashed again a short distance away.
One vehicle had just been stolen from a gas station in south Jackson. The other had been stolen from the Jackson suburb of Clinton about two weeks ago.
People in both vehicles ran away, but officers found an injured man they believe had been in the vehicle taken from the gas station.
Police Sgt. Roderick Holmes tells WAPT-TV that investigators do not believe the thieves were working together. Holmes says the two vehicles randomly crashed into each other.