Each week the Associated Press fact-check team answers reader questions about the coronavirus and how it's changing our lives. Here are the questions on our minds lately.
Who will be the first to get COVID-19 vaccines?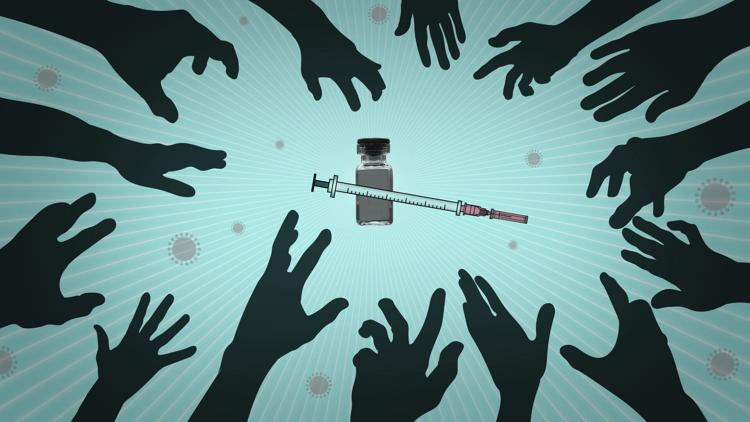 No decision has been made, but the consensus among many experts in the U.S. and globally is that health care workers should be first, said Sema Sgaier of the Surgo Foundation, a nonprofit group working on vaccine allocation issues.
An expert panel advising the U.S. Centers for Disease Control and Prevention is also considering giving high priority to workers in essential industries, people with certain medical conditions and people age 65 and older.
Once a vaccine gets a green light from the Food and Drug Administration, the panel will look at clinical trial data on side effects and how people of various ages, ethnicities and health statuses responded. That will determine the panel's recommendations to the CDC on how to prioritize shots.
State officials are expected to follow the CDC's guidance as they distribute the first vaccines.
Vaccine supplies will be limited at first. There won't be enough to protect everyone, yet getting the shots to the right people could change the course of the pandemic.
Many other questions about distribution remain unanswered, Sgaier noted, such as whether to distribute shots equally across the country, or to focus on areas that are hot spots.
What does COVID-19 vaccine effectiveness mean?
What does COVID-19 vaccine effectiveness mean? It refers to the likelihood that a coronavirus shot will work in people.
Two vaccine makers have said that preliminary results from their late-stage studies suggest their experimental vaccines are strongly protective. Moderna this week said its vaccine appears nearly 95% effective. This comes on the heels of Pfizer's announcement that its shot appeared similarly effective.
Those numbers raised hopes around the world that vaccines could help put an end to the pandemic sometime next year if they continue to show that they prevent disease and are safe.
Effectiveness numbers will change as the vaccine studies continue since the early calculations were based on fewer than 100 COVID-19 cases in each study. But early results provide strong signals that the vaccine could prevent a majority of disease when large groups of people are vaccinated.
U.S. health officials said a coronavirus vaccine would need to be at least 50% effective before they would consider approving it for use. There was concern that coronavirus vaccines might be only as effective as flu vaccines, which have ranged from 20% to 60% effective in recent years.
The broad, early effectiveness figures don't tell the whole story. Scientists also need to understand how well the vaccine protects people in different age groups and demographic categories.
For both vaccines, the interim results were based on people who had COVID-19 symptoms that prompted a virus test. That means we don't know yet whether someone who's vaccinated might still get infected -- even if they show no symptoms -- and spread the virus.
Also unknown is whether the shots will give lasting protection, or whether boosters will be required.
Am I immune to the coronavirus once I've had it?
You have some immunity, but how much and for how long are big unanswered questions.
There's evidence that reinfection is unlikely for at least three months even for people who had a mild case of COVID-19. That's how long New York City researchers found stable levels of protective antibodies in a study of nearly 20,000 patients of the Mount Sinai Health System.
Reinfection so far has been rare. The best known example: Researchers in Hong Kong said a man had mild COVID-19 and then months later was infected again but showed no symptoms. His second infection was detected through airport testing, and researchers said genetic tests revealed slightly different strains of the virus.
It's actually evidence the man's immune system worked like it should. Very few diseases leave people completely immune for life.
Antibodies are only one piece of the body's defenses, and they naturally wane over time. And usually, "memory" immune cells can identify germs they previously encountered so they're better at fighting them the second time around. That can help make any repeat infections less severe.
Scientists are studying how the other parts of the immune system kick in with the coronavirus.
It's not known whether people who've been reinfected but show no symptoms would be able to spread the virus to others. That's why health authorities say even people who have recovered from COVID-19 need to wear a mask, keep their distance and practice good hygiene.
Is it safe to go to the gym during the coronavirus pandemic?
It depends on where you live and the precautions you and the gym take.
If cases of COVID-19 are poorly controlled where you live, experts say it's best to stay away. But if you live in an area where the spread is being contained, there are ways to minimize risk when going for a workout.
To ensure everyone stays at least 6 feet apart, gyms should take steps such as moving machines, blocking off areas and limiting the number of people allowed inside, says Dr. Marybeth Sexton, an assistant professor of infectious diseases at Emory University.
Avoiding the locker room, bringing your own water bottle and using hand sanitizer also helps reduce risk, Sexton says.
The U.S. Centers for Disease Control and Prevention also suggests checking in online, rather than in person, and seeking activities that are outdoors instead of indoors when possible.
Gym staff should be cleaning exercise machines between uses and regularly wiping down other frequently touched areas with products that kill viruses.
And experts say face coverings should be worn at the gym whenever possible.
Sexton also suggests bringing a backup mask. If the one you're wearing gets really damp with sweat, she says it might not be as effective.
Even for those being careful, gyms pose a risk. Many are indoors, where ventilation is limited and social distancing can be challenging. In an ongoing pandemic, if you can manage to break a sweat without returning to the gym just yet, that's the best option, according to Sexton.
"If you can exercise by yourself outside, that's safer than being at the gym," she said.
___
The AP is answering your questions about the coronavirus in this series. Submit them at: FactCheck@AP.org.
Has the coronavirus mutated in any significant way?
Coronavirus doesn't seem to have changed in a way that makes people less or more sick. There's some evidence that a specific mutation called D614G may have made it easier for the virus to be transmitted between people. But not all scientists are convinced, and it's hard to say how strong any such effect might be.
The D614G mutation, which appeared quite early in the pandemic, has since become so common that most outbreaks are caused by strains that carry it.
It's normal for viruses to mutate over time, but most genetic changes don't affect their behavior.
———
The AP is answering your questions about the coronavirus in this series. Submit them at: FactCheck@AP.org.
Who does a facemask really protect? Me or others?
Does a face mask protect me, or just the people around me? It likely provides protection for both.
Studies on the new coronavirus and other germs show wearing a mask helps stop infected people from spreading disease to others. Evidence also suggests that masks may offer some protection for the people wearing them.
The virus spreads from droplets people spray when they cough, sneeze or talk. Surgical or cloth face masks can block most of those particles from spreading.
While some droplets may still spread out, wearing a mask could reduce the amount, providing a benefit to others. Research shows people don't get as sick when exposed to smaller amounts of virus, said Dr. Monica Gandhi, a virus expert at University of California, San Francisco.
And masks may protect the people wearing them by reducing the amount of droplets from others that might make contact with them.
In two U.S. food processing plants where masks were required and infection clusters occurred, Gandhi noted that most workers who developed COVID-19 had mild illness or no symptoms.
Research on a different coronavirus has also found low infection rates among people who frequently wore masks in public.
Experts say masks are particularly important with the new coronavirus because infected people can be contagious even if they don't have symptoms.
___
The AP is answering your questions about the coronavirus in this series. Submit them at: FactCheck@AP.org.
Does my employer have to say if a coworker has the virus?
Employers are generally not required to tell workers when someone in the workplace has tested positive for the coronavirus.
The U.S. Centers for Disease Control and Prevention recommends that companies monitor employees for symptoms and alert those who may have been in contact with an infected person. Some states may order businesses to follow such guidance.
Employers have the right to take employees' temperature and ask about symptoms or if they have been exposed to or diagnosed with the virus. If an employee doesn't respond to those questions, they can be barred from the workplace.
Businesses are required to provide a safe working environment. They also have to keep track of infections contracted on the job and report any hospitalizations or deaths related to the disease to the U.S. Occupational Safety and Health Administration.
Some workers are unsettled by the lack of information. Amazon, for example, alerted warehouse workers when someone tested positive for the virus, but didn't disclose a tally of how many workers tested positive. So workers began trying to keep track on their own.
There are also pending lawsuits against employers filed by workers who were exposed to or diagnosed with the coronavirus. In general, there's a high legal bar for finding an employer at fault for endangering employees and most claims are resolved via worker's compensation settlements. There has also been some debate over whether Congress should grant businesses liability protections during the pandemic.
What should I look for in a hand sanitizer?
Pick one that contains mostly alcohol, and has few other ingredients.
The U.S. Centers for Disease Control and Prevention says hand sanitizers should be at least 60% ethyl alcohol or 70% isopropyl alcohol. Other approved ingredients may include sterile distilled water, hydrogen peroxide and glycerin, according to the U.S. Food and Drug Administration.
You should avoid anything with methanol or 1-propanol, both of which can be highly toxic. The FDA also warns people to watch out for hand sanitizers packaged in food and drink containers, since accidentally ingesting them could be dangerous.
Health officials also say to avoid hand sanitizers that replace alcohol with benzalkonium chloride, which is less effective at killing certain bacteria and viruses. Making your own sanitizers isn't encouraged either; the wrong mix of chemicals can be ineffective or cause skin burns.
And you should only use hand sanitizer when you can't wash your hands with soap and water, says Barun Mathema, an infectious disease researcher at Columbia University. Hand washing is better at removing more germs.
Can I use a face shield instead of a mask?
No. Health officials don't recommend the clear plastic barriers as a substitute for masks because of the lack of research on whether they keep an infected person from spreading viral droplets to others.
However, those who want extra protection may want to wear a face shield in addition to a mask.
Face shields have the added benefit of protecting your eyes and discouraging you from touching your face by acting as a physical barrier, says Christopher Sulmonte, project administrator of the biocontainment unit at Johns Hopkins Hospital.
Meanwhile, the available research so far indicates that the best face shields for preventing viral spread are hooded or wrap around the sides and bottom of the face, according to the U.S. Centers for Disease Control and Prevention. That's because those shields leave less space for droplets from sneezing, coughing and talking to escape.
If you do wear a reusable face shield in addition to a mask, the CDC notes the importance of cleaning it after each use. The agency also says you should wash your hands before and after taking it off, and avoid touching your face while removing it.
What are the 3 types of coronavirus tests?
There are three broad categories of coronavirus tests in the U.S. Two diagnose whether you have an active infection, and a third indicates if you previously had the virus.
Here's how they work:
GENETIC TESTS
Most tests look for bits of the virus' genetic material, and require a nasal swab that is taken by a health professional and then sent to a lab. This is considered the most accurate way to diagnose an infection, but it's not perfect: The swab has to get a good enough sample so any virus can be detected.
These tests usually take hours to process at the lab so you likely won't get results back for at least a day, though a handful of rapid tests take about 15 minutes on site. Other genetic tests use saliva, instead of a swab.
ANTIGEN TESTS
A newer type of test looks for proteins found on the surface of the coronavirus, rather than the virus itself. These antigen tests are just hitting the market, and experts hope they'll help expand testing and speed up results.
Antigen tests aren't as accurate as genetic tests, but are cheaper, faster and require less specialized laboratory equipment. They still require a nasal swab by a health professional.
A recently approved test from Abbott Laboratories takes 15 minutes and can be performed at schools, offices and other locations.
ANTIBODY TESTS
Antibody tests look for proteins that the body makes to fight off infections in a patient's blood sample. Antibodies are a sign that a person previously had COVID-19.
Scientists don't yet know if antibodies protect people from another infection, or how long that protection might last. So antibody tests are mostly useful for researchers measuring what portion of the population was infected.
What are the rules on masks in schools?
Whether students have to wear masks, and the trouble they could face if they don't, depends on where they go to school.
The U.S. Centers for Disease Control and Prevention encourages masks for most students, especially when they are less than 6 feet apart. The exceptions are children younger than 2 and those with breathing problems or who can't remove the mask without help.
But how states and districts interpret the guidance varies. Ohio mandates masks across the board in K-12 schools. Massachusetts requires masks for students in second grade and higher, and encourages them for younger children. South Carolina says students have to wear masks in the hallways, but can take them off in the classroom if a teacher allows it.
Rules vary outside the United States, too. In Germany, Berlin requires masks in hallways, but not during classroom instruction. In the western state of North Rhine-Westphalia, masks are required in class as well. In the northern Italian town of Codogno that was hit hard by the virus, elementary and middle school students have to wear masks. They can be lowered during lessons, unless students can't maintain distance.
The issue has led to some contention. Back in the U.S., Utah's school mask mandate has drawn protest from parents, as well as support from some students who say it's worth it to be able to attend school in-person. The state also allows for some of the strictest consequences. Students and staff who refuse to follow the rules could be charged with a misdemeanor.
In New York City, officials say students will simply be sent home and told to attend school remotely if they refuse to wear masks.
How can I tell the difference between the flu and COVID-19?
It's impossible to tell without a test. Influenza and COVID-19 have such similar symptoms, you may need to get tested to know what's making you miserable.
Body aches, sore throat, fever, cough, shortness of breath, fatigue and headaches are symptoms shared by the two.
One difference? People with the flu typically feel sickest during the first week of illness. With COVID-19, people may feel the worst during the second or third week, and they may be sicker for a longer period.
Another difference: COVID-19 is more likely than the flu to cause a loss of taste or smell. But not everyone experiences that symptom, so it's not a reliable way to tell the viruses apart.
That leaves testing, which will become more important as flu season ramps up this fall in the Northern Hemisphere. Doctors will need to know test results to determine the best treatment.
It's also possible to be infected with both viruses at the same time, said Dr. Daniel Solomon, an infectious diseases expert at Brigham and Women's Hospital and Harvard Medical School in Boston.
Whether you get tested for one or both viruses may depend on how available tests are and which viruses are circulating where you live, he said.
"Right now we are not seeing community transmission of influenza, so widespread testing for the flu is not yet recommended," Solomon said.
Both the flu and coronavirus spread through droplets from the nose and mouth. Both can spread before people know they are sick. The flu has a shorter incubation period — meaning after infection it can take one to four days to feel sick — compared to the coronavirus, which can take two to 14 days from infection to symptoms.
On average, COVID-19 is more contagious than flu. But many people with COVID-19 don't spread the virus to anyone, while a few people spread it to many others. These "superspreader events" are more common with COVID-19 than flu, Solomon said.
Preventing the flu starts with an annual flu shot tailored to the strains of the flu virus that are circulating. Health officials would like to see record numbers of people get flu shots this year so hospitals aren't overwhelmed with two epidemics at once.
There's no vaccine yet for COVID-19, although several candidates are in the final testing stages.
Precautions against COVID-19 — masks, social distancing, hand-washing — also slow the spread of the flu, so health officials hope continued vigilance could lessen the severity of this year's flu season.
___
The AP is answering your questions about the coronavirus in this series. Submit them at: FactCheck@AP.org.
How easily does coronavirus spread among children?
It appears the virus can spread among children and teens, but how easily may vary by age. Research is still underway, but children under age 10 seem to be less likely than older kids to transmit the virus to other children and adults.
Children generally don't appear to get sick or experience symptoms as often as adults when they're infected. Some evidence suggests that may be particularly true for younger kids. That might help explain why they appear less likely to spread the virus — they're less likely to be coughing and sneezing.
Some of the latest evidence comes from a recent report that showed infected children in Utah day care centers and day camps spread the virus to family members, including siblings. That suggested very young children with no symptoms or very mild ones can spread infection, but that the rate of spread was low.
A large study from South Korea suggested that kids aged 10 and up may spread the virus more easily to family members than younger kids, and might even spread it as easily as adults.
Spread among children was also suspected in an outbreak at a Georgia summer camp.
With other respiratory viruses, "young children are the germ factories. In this case, it's different and we don't really know why,'' said Dr. Sean O'Leary of the American Academy of Pediatrics.
What do we know about superspreader events in the pandemic?
We're still learning, but it seems that much of the spread of the coronavirus has been caused by what disease trackers call superspreader events.
That's when a single person infects a large number of other people, or when a gathering is linked to a large number of cases.
There's no rule for when a cluster of cases is big enough to be called a superspreader event. But these are not instances of spread within one household. Instead, these are large clusters of cases where infection occurs in settings such as churches, restaurants or bars.
In the United States, for instance, a choir member with symptoms attended a rehearsal in March. Of 60 others who attended, 52 got sick with COVID-19, including two who died.
In Hong Kong, an outbreak at four bars infected 39 customers, 20 staff members and 14 musicians before ballooning further to infect 33 family members and other contacts. Disease trackers discovered that bands played at all four bars, so musicians may have spread the virus to more than 100 people all told.
Scientists studying three months of contact tracing data from Hong Kong estimated that 19% of people infected were responsible for 80% of the spread of coronavirus infections.
To prevent superspreader events, we need to better understand them, said Anne Rimoin, an infectious diseases expert at the University of California, Los Angeles.
She has called for detailed contact tracing of the infections around President Donald Trump, including those who attended a Sept. 26 Rose Garden ceremony and indoor White House reception for Supreme Court nominee Judge Amy Coney Barrett.
The timing of the event and the number of people infected suggests the possibility of superspreading, she said.
"Contact tracing is the way you get to the bottom of a superspreader event," Rimoin said. "That's how you break chains of transmission."
Unlike many contact tracing investigations, where it can be difficult to find everybody involved, the White House investigation would have "exquisite records and video about who was where and when," Rimoin said. "It's an opportunity to learn about superspreader events that could save thousands of lives, if not millions of lives, in the long run."
Does a flu shot reduce my chances of getting COVID-19?
The flu vaccine protects you from seasonal influenza, not the coronavirus — but avoiding the flu is especially important this year.
Health officials and medical groups are urging people to get either the flu shot or nasal spray, so that doctors and hospitals don't face the extra strain of having to treat influenza in the midst of the coronavirus pandemic.
Not to mention the confusion factor: The illnesses have such similar early symptoms that people who get the flu may mistakenly think they have COVID-19, said Dr. Gregory Poland, an infectious disease specialist at Mayo Clinic.
Only a test can tell the two apart.
The U.S. Centers for Disease Control and Prevention recommends the flu vaccine for everyone starting at 6 months of age, and suggests getting it by the end of October.
The CDC says the vaccine will not cause you to fall ill with the flu, and that the protection it provides takes about two weeks to kick in. And the flu vaccine isn't perfect but studies show if the vaccinated get sick, they don't get as severely ill.
A few flawed studies over the years have attempted to link the flu vaccine to increased risk of other respiratory infections, but experts say there is no evidence that's true.
What are the treatment options for COVID-19?
There are several, and which one is best depends on how sick someone is.
For example, steroids such as dexamethasone can lower the risk of dying for severely ill patients. But they may do the opposite for those who are only mildly ill.
In the United States, no treatments are specifically approved for COVID-19, but a few have been authorized for emergency use and several more are being considered. A panel of experts convened by the National Institutes of Health updates guidelines as new studies come out.
Here's what's advised for various patients:
-- Not hospitalized or hospitalized but not needing extra oxygen: No specific drugs recommended, and a warning against using steroids.
-- Hospitalized and needing extra oxygen but not a breathing machine: The antiviral drug remdesivir, given through an IV, and in some cases also a steroid.
-- Hospitalized and on a breathing machine: Remdesivir and a steroid.
What about convalescent plasma, an infusion of blood from a COVID-19 survivor that contains antibodies that fight the virus? Not enough is known to recommend for or against it, the guidelines say.
However, enough is known to advise against hydroxychloroquine and certain drugs that affect the immune system -- multiple studies have found them ineffective against the coronavirus.
Aside from drugs, doctors have learned more about ways to treat hospitalized patients, such as putting them on their bellies and other measures that may prevent the need for breathing machines.
Do I need to wear a mask if I'm 6 feet away from others?
Health experts recommend wearing masks in public and keeping your distance from others in most cases, but whether you should do both could depend on the situation.
"There's no invisible force field at 6 feet," said Saskia Popescu, an infectious disease expert at George Mason University.
The U.S. Centers for Disease Control and Prevention says spread of the virus beyond 6 feet is uncommon but more likely in poorly ventilated spaces. Some health experts say the virus can spread more easily than the agency indicates, and suggest wearing masks even in prolonged outdoor gatherings when people are more than 6 feet apart.
Other factors could also influence whether it's best to keep your distance while also wearing a mask. When people raise their voices or pant — such as when they sing, shout or exercise — they can expel more respiratory droplets or aerosols, and send them traveling farther through the air. The longer you're in a situation with potential for exposure to the virus, the greater your risk of infection.
"The reason this stuff is so confusing is people want clear answers, and there's not a straightforward answer," said Lisa M. Lee, a public health expert at Virginia Tech.
Since no protective measure is entirely effective, Lee suggests layering safeguards like masks, social distancing and hand washing.
"And your mask is your basic layer," she said.
Getting in the habit of wearing a mask anytime you leave the house also eliminates having to decide when you should, said Bob Bednarczyk, an expert in infectious diseases at Emory University.
"It's one less thing to worry about," he said.
How does the coronavirus affect the heart?
Even though it's known as a respiratory virus, doctors believe the coronavirus can directly infect the heart muscle and cause other problems leading to heart damage.
In some people, as COVID-19 decreases lung function, it may deprive the heart of adequate oxygen. Sometimes it causes an overwhelming inflammatory reaction that taxes the heart as the body tries to fight off the infection.
The virus can also invade blood vessels or cause inflammation within them, leading to blood clots that can cause heart attacks.
Clots throughout the body have been found in many COVID-19 patients. That has led some doctors to try blood thinners, although there is no consensus on that treatment.
Dr. Sean Pinney of the University of Chicago says people with heart disease are most at risk for virus-related damage to the heart. But heart complications also have been found in COVID-19 patients with no known previous disease.
A recent review in the Journal of the American College of Cardiology notes that evidence of heart involvement has been found in at least 25% of hospitalized coronavirus patients. At some centers, the rate is 30% or higher. And some studies have found elevated enzyme levels and other signs suggesting heart damage even in patients with milder disease. It is not known whether that damage is permanent.
One small study found evidence of the virus in the hearts of COVID-19 patients who died from pneumonia. Another, using heart imaging, found inflammation of the heart muscle in four college athletes who had recovered from mild COVID-19 infections. There were no images available from before the athletes got sick, and therefore no way to know if they had pre-existing heart problems.
Dr. Tom Maddox, an American College of Cardiology board member, says it's unclear if the virus can cause a normal heart to become dysfunctional.
"There's still so much we don't know," Maddox said.
Do masks with antiviral coating offer more protection?
It's an intriguing idea, but there haven't been enough rigorous independent studies to establish whether antiviral masks are better at protecting wearers or preventing the spread of the virus.
Their specifics vary, but many antiviral masks are supposed to be made or coated with materials that have extra virus-fighting properties, such as copper.
Websites for several antiviral masks do not provide detailed information about how researchers tested their safety or effectiveness, said Hyo-Jick Choi, a materials science expert at the University of Alberta.
But it usually takes years to design and test new mask technology, said Choi, who is part of a group that has been developing a different type of antiviral mask since before the pandemic.
Masks marketed as being "antiviral" often cost more than N-95 and surgical masks. A single coated mask can cost up to $10; disposable surgical masks and N-95 masks sell at large retailers for between 35 cents and $3 per mask.
Choi said a simpler way to boost the effectiveness of the masks you're already using is to ensure you're putting them on, wearing them and taking them off correctly.
And no mask can fully protect wearers, "but almost any mask can help to protect others around the wearers," said Jiaxing Huang, a professor of materials science and engineering at Northwestern University.
Does weather affect the spread of the coronavirus outside?
Not really.
The World Health Organization says the virus can be transmitted in any kind of weather and that there is no reason to believe that cold weather can kill it.
The U.N. health agency says the virus is mainly spread between people. Rain and snow might dilute any traces of the virus on benches or other outside objects, but transmission from surfaces is not believed to be a major contributor to the pandemic.
Scientists say the real concern about cold weather is that lower temperatures are more likely to keep people indoors — potentially in more crowded spaces where the virus can spread more easily.
Studies have shown that a significant percentage of spread happens within households when people are sharing common areas like kitchens and bathrooms.
WHO and others have also warned that in indoor spaces with poor ventilation, transmission happens more easily because the virus can be spread in the air and infectious particles might remain suspended in the air for several hours.
Superspreader events have been traced to nightclubs, gyms and even choir practices. The coronavirus does not transmit as often outdoors because fresh air disperses the virus particles and people are more easily able to keep their distance from others. But experts caution that if people spend extended periods of time outdoors close to others without wearing masks, coronavirus spread is still possible.
Health officials say the best way to stop transmission of the virus is to wear a mask in public, stay at least 6 feet (2 meters) away from people not in your household and frequently wash your hands.
Will social distancing weaken my immune system?
Will social distancing weaken my immune system? In short, no.
Some worry a lack of contact with others will weaken their immune system by reducing its active contact with germs.
But even when we're staying 6 feet from others or spending most of our time at home, our bodies are continuously responding to plenty of bacteria and other germs that inhabit indoor and outdoor environments.
"We're constantly exposed to microbes," said Akiko Iwasaki, an immune system researcher at Yale University. "Our immune system is always being triggered."
The effects of childhood vaccines and other built-up immunity are also long-lasting, Iwasaki said, and won't disappear overnight because we're keeping our distance from others during the pandemic.
Experts say anyone looking to boost their immune health during the pandemic should practice habits such as stress management, healthy eating, regular exercise and getting enough sleep.
"These are the things that actually affect the immune system," Iwasaki said.
A seasonal flu shot will also help protect you from one more potential illness.