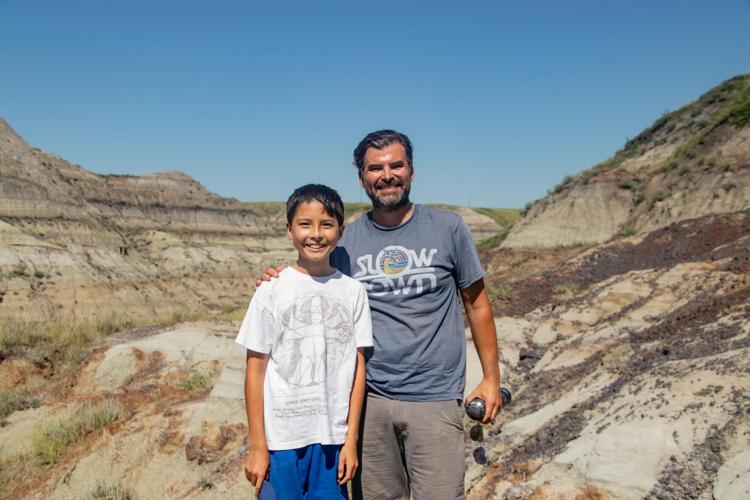 Nathan Hrushkin has wanted to be a paleontologist for as long as he can remember, and the 12-year-old has already made a significant discovery.
He found a partially unearthed dinosaur fossil while hiking with his dad this summer at a conservation site in the Horseshoe Canyon in the Badlands of Alberta, Canada.
"It's pretty amazing to find something that's like real, like an actual dinosaur discovery," he said. "It's kind of been my dream for a while."
Nathan is a seventh grader in Calgary, which is about an hour-and-a-half away.
The fossil was a humerus bone from the arm of a juvenile hadrosaur — a duck-billed dinosaur that lived about 69 million years ago, according to a news release from the Nature Conservancy of Canada.
Nathan and his dad, Dion, had found bone fragments in the area on a previous hike and thought that they might have washed down from farther up the hill.
They were just finishing lunch when Nathan climbed up the hill to take a look.
"He called down to me, he's like, 'Dad, you need to get up here,' and as soon as he said that I could tell by the tone in his voice that he found something," Dion Hrushkin said.
Nathan said the fossil was very obvious and it looked like "a scene on a TV show or a cartoon or something."
They sent pictures of the bone to the Royal Tyrrell Museum of Paleontology, which identified the fossil and sent a team of paleontologists to the site.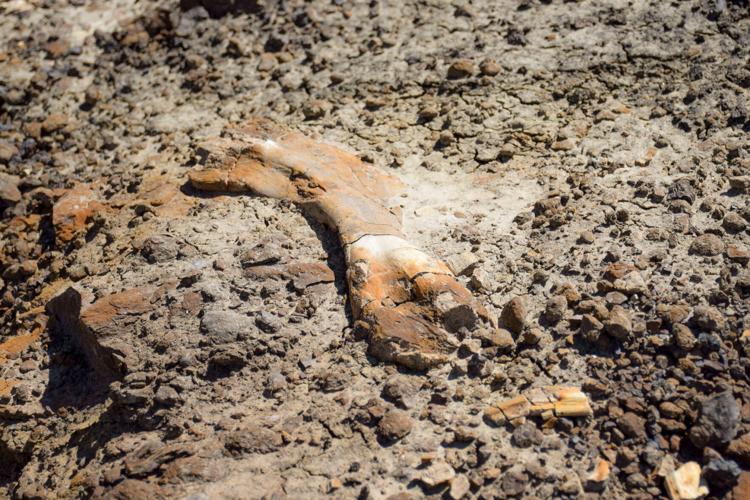 Fossils are protected by law in Alberta, and the NCC said that it is important that people don't disturb any fossils they may find.
The crew has been working at the site for about two months and uncovered between 30 and 50 bones that came from a single young hadrosaur that was about three or four years old, according to the statement.
Hadrosaur bones are the most common fossils found in Alberta's badlands, but few juvenile skeletons have been found, the statement said. It was also found in a layer of rock that rarely preserves fossils.
"This young hadrosaur is a very important discovery because it comes from a time interval for which we know very little about what kind of dinosaurs or animals lived in Alberta," François Therrien, the Royal Tyrrell Museum's curator of dinosaur paleoecology, said in the statement. "Nathan and Dion's find will help us fill this big gap in our knowledge of dinosaur evolution."
The fossils were very close together, so the paleontologists removed large pieces of the surrounding rock from the canyon walls.
The bones were then covered in a protective jacket of burlap and plaster, so they could be taken to the museum for cleanup and further study.
One of the fossil-rich slabs weighed about 1,000 pounds and was more than four feet wide, according to Carys Richards, a communications manager with the NCC.
Nathan had heard of the hadrosaur before his big find but said it wasn't the most well-known dinosaur.
It's probably his favorite now — beating out the wildly popular Tyrannosaurus rex.
Nathan and his dad have come to watch the dig several times since the discovery and were there on Thursday when the team was hauling out the last specimens.
"It was pretty fun to be there and watch them do their things," Nathan said.
---
Last week's weird news
A company is turning Dr. Anthony Fauci and House Speaker Nancy Pelosi into action figures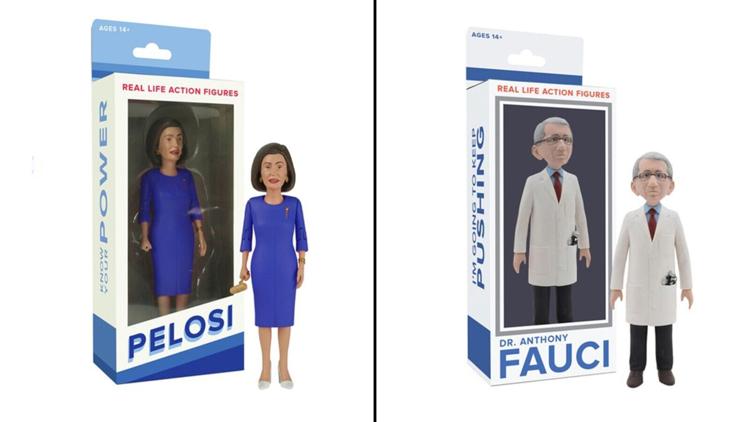 House Speaker Nancy Pelosi and Dr. Anthony Fauci, director of the National Institute of Allergy and Infectious Diseases, are getting the action figure treatment.
FCTRY, a Brooklyn-based product design company, said it raised over $200,000 on a Kickstarter page — surpassing its initial $15,000 goal — to help them produce the toys.
"These are imperfect times but still they could be worse," the company wrote on its Kickstarter page. "Imagine a parallel universe where everything else is exactly the same, except there is no Nancy Pelosi to act as a check on power. Kind of terrifying, right? Pelosi has basically been leading the Resistance these last few years...We should probably thank her."
Pelosi's action figure has two options, one where she is wearing a pink dress complete with a matching removable mask, and one where she is wearing a blue dress. In both, she carries her speaker's gavel and accessories. Her arms and head also move.
Dr. Fauci's figurine is dressed in a white coat and removable mask. The action figure sports the doctor's signature glasses, and has his stethoscope ready to go in his front pocket.
Because of his work as a key member of the White House's coronavirus task force, Fauci has garnered a large fanbase — and businesses across the country have plastered the doctor on everything from cupcakes to socks.
FCTRY said it decided to create a Fauci figure after raising "a good deal more than we need to produce the first run of Pelosi action figures."
The company, founded in 2008 by Jason Feinberg and Alyssa Zeller Feinberg, is known for selling political action figures, including ones of the late Justice Ruth Bader Ginsburg, former Vice President Joe Biden, Sen. Kamala Harris and former President Barack Obama.
The action figures — which will cost $20 each — are designed by Mike Leavitt, a Seattle-based artist who has spent the last 20 years mastering the craft of sculpted caricature, according to the company.
"Heroes give us a sense of hope and direction, which is especially necessary during tough and confusing times," FCTRY wrote on the fundraising page. "Collectively, we've got huge challenges to face right now and there are no superheroes swooping in to save the day - just ordinary people who are willing and able to confront extraordinary problems."
Feisty Tasmanian devils roaming Australian mainland again
JAKARTA, Indonesia (AP) — Tasmanian devils, the carnivorous marsupials whose feisty, frenzied eating habits won the animals cartoon fame, have returned to mainland Australia for the first time in some 3,000 years.
"Seeing those devils released into a wild landscape — it's a really emotional moment," said Liz Gabriel, director of conservation group Aussie Ark, which led the release effort in partnership with other conservation groups.
The 11 most recently released devils began exploring their new home once they were freed from round, white cages at the nearly 1,000-acre Barrington Tops wildlife refuge in New South Wales state, about 190 kilometers (120 miles) north of Sydney.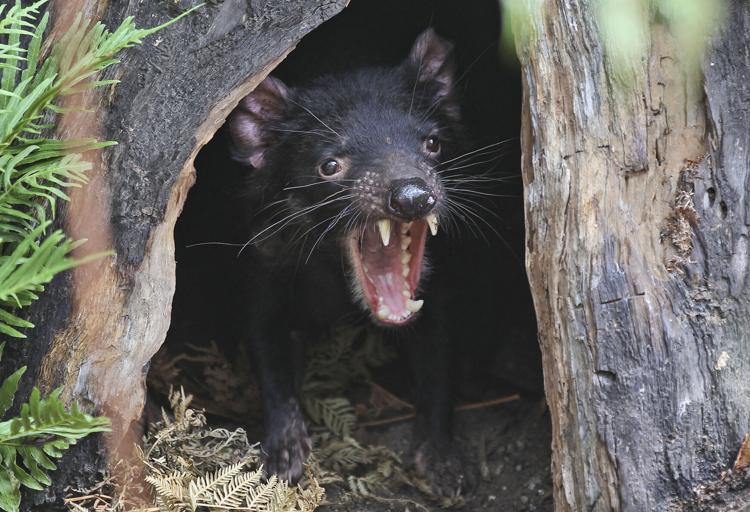 Tasmanian devils, which were once called Sarcophilus satanicus or "Satanic flesh-lover," went extinct in mainland Australia before the arrival of Europeans. Scientists believe the introduction of carnivorous dingoes, a surge in the indigenous human population, and a devastating dry season cause by a prolonged El Nino caused the devil to migrate to present-day Tasmania, said University of Tasmania ecologist Menna Jones.
"I think any one of those three factors alone probably wouldn't have caused extinction — but the three of them together likely caused the devil to become extinct on the mainland," she said.
Devils have been protected in Australia since 1941, and conservationists have worked to bolster their populations for years, citing their importance as top predators who can suppress invasive species — like foxes and feral cats — and in turn protect smaller species and biodiversity.
One of the biggest blows to conservation efforts came in the 1990s when a communicable cancer called devil facial tumor disease — which passes between devils through their bites while mating and causes large tumors that prevent them from eating — reduced the population from some 140,000 to as few as 20,000.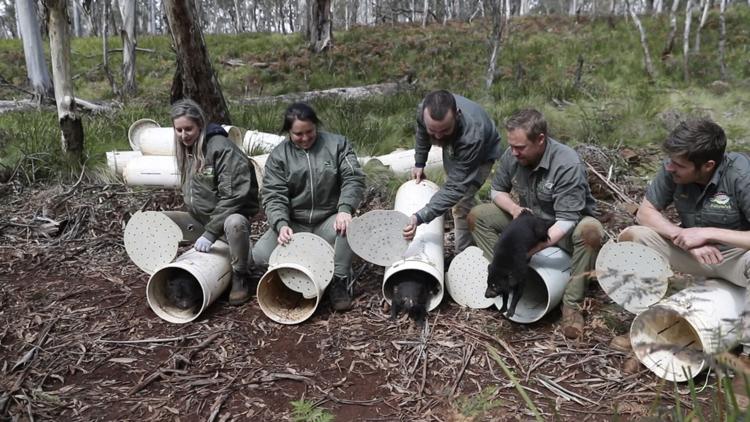 In response, researchers established an insurance population of cancer-free devils in wild-type enclosures in Australia's island state of Tasmania. But the releases in July and September are the first time the squat mammals — all of which have tested negative for the contagious cancer — have been released on the mainland in a protected wild landscape.
Gabriel said Aussie Ark aims for devils eventually to live in non-protected areas in mainland Australia, with the hope the devils will contribute to keeping cat and fox populations under control.
Some experts question whether the introduction would have that hoped-for level of impact.
Nick Mooney, an Australia conservationist who has worked with Tasmanian devils for some 40 years, said feral felines are likely to return to hunting for a food source rather than relying on carrion in competition with the devils.
"There is an argument that by putting devils into a situation where you stop the other carnivores scavenging is that those animals, like cats and foxes, will simply start hunting. You could actually make a conservation problem where it didn't exist before," said Mooney.
There's also a matter of reputation. While devils tend to feed on small mammals they're also known to eat the carcasses of cattle and sheep, potentially making them a nuisance to farmers.
"When you do big interventions like this, there needs to be buy-in from the community, particularly those who are affected in the community," said Jones. "There needs to be consultation."
For now, the devils released this year and those expected to be released in coming years won't go into the wild just yet. Instead they will receive supplementary feedings and be monitored by remote cameras, with some devils tagged with GPS trackers to learn more about how they adjust in their new environment, said Gabriel.
"We dream of many more sanctuaries with devils in them and really growing the numbers of the species to protect that species, but also the animals in the environment around them," she said. "This is just the beginning."
___
The Associated Press Health and Science Department receives support from the Howard Hughes Medical Institute's Department of Science Education. The AP is solely responsible for all content.
Large Chinese mitten crab crawls into German woman's home
BERLIN (AP) — Police in southern Germany say a woman got a shock while airing out her home when a 25-centimeter (10-inch) Chinese mitten crab scurried in from the terrace through the open door.
Freiburg police said Thursday that they received a call reporting the unwanted home invader in the nearby town of Unterlauchringen, near the Swiss border, the previous morning.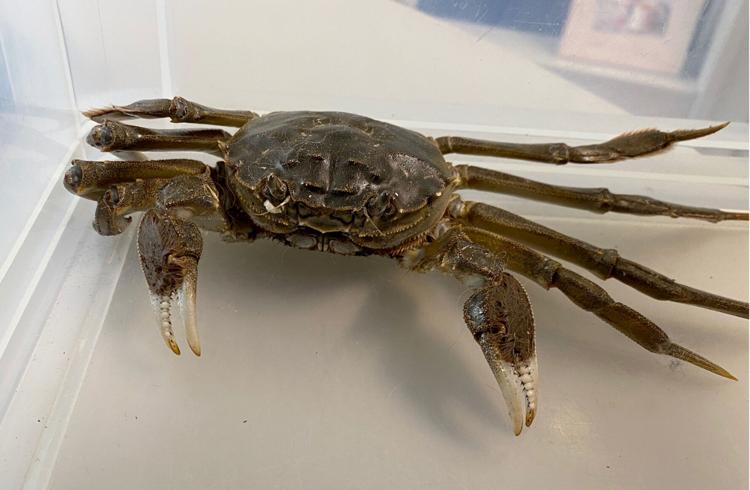 Before they arrived, police say, the woman captured the crustacean by putting an upside-down garbage can on top of it.
Officers were able to put the crab into a container and then take it to a local veterinary clinic.
The invasive species, native to Asia, is now found in many rivers in Germany, and the woman's residence was not far from the Rhine, though the Chinese mitten crab has never been reported in the area before. They're not considered dangerous.
An angry elk gored a Colorado man finishing a round of golf over the weekend
A day catching up with friends and soaking in the scenery on a beautiful mountain golf course in Colorado this weekend ended with a golfer's kidney sliced in half by an angry elk.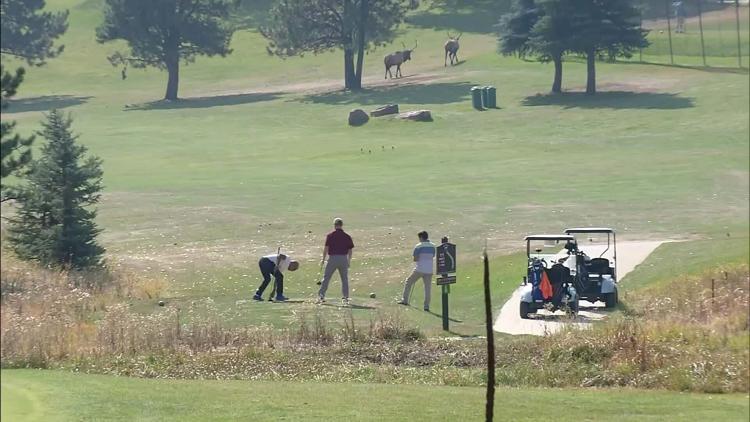 Zak Bornhoft, 41, and his three friends were two holes away from completing the Evergreen Golf Course, located outside of Denver, on Saturday. The 18-hole course overlooking the Evergreen Lake is known for having "spectacular views from every tee," according to its Facebook page.
This was one reason, Bornhoft said, he wanted to play golf on this course.
But views of green tree tops and blue sparkling water weren't the only thing the golfers would experience. They were met by dozens of elk roaming freely around the course.
From golfing to the hospital
"The golfing went pretty good throughout the day until we got to the back nine and saw all the elk," Bornhoft told CNN in a phone interview from the hospital.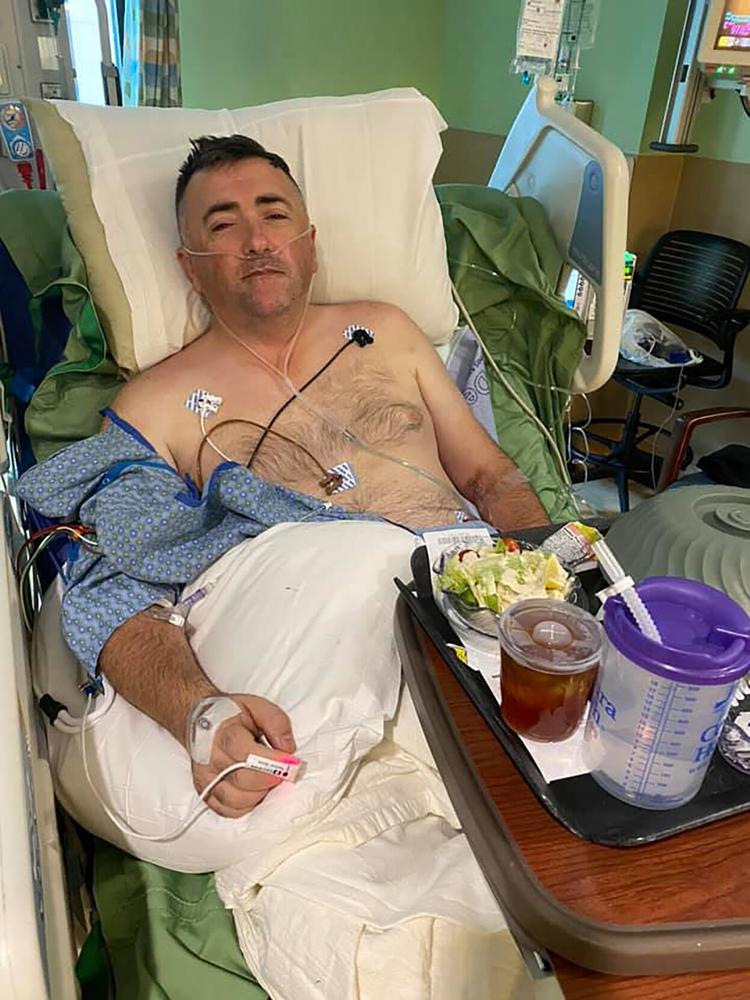 He said they tried to steer clear of the animals and keep their distance. Bornhoft and one of his friends were in a golf cart between the 16th and 17th hole when a bull elk charged at them.
"This bull elk was just eyeing us down," Bornhoft said. "We were slowly going forward and he started charging at us and he missed. My buddy gassed it to get away and the elk gored me on my right side."
The elk's antler punctured Bornhoft in the back side of his right hip, going in deep enough to slice his left kidney into two pieces. He was rushed to a local hospital where he continues to recover.
"It was unbelievable," he told CNN. "(The elk) was just freaked out and there was nothing we could do."
During the fall, elk can be more aggressive and territorial since it is mating season, also known as rut, according to Colorado Parks and Wildlife.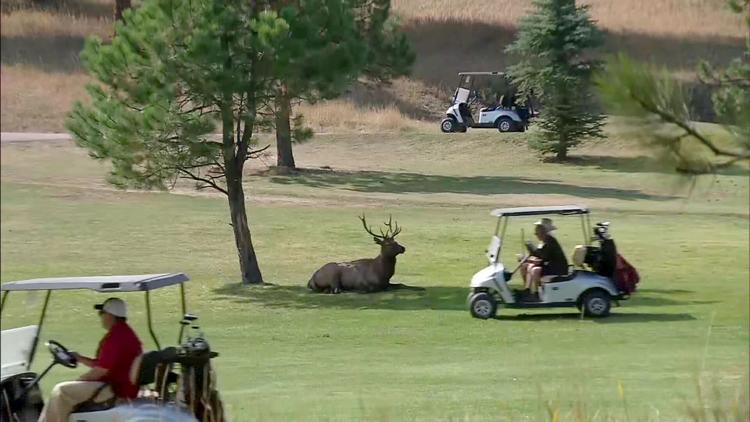 "During the rut, the bulls collect their harems and very aggressively will defend them, so it could definitely see a golf cart or people nearby as a challenger," Jason Clay, a public information officer with Colorado Parks and Wildlife, told CNN affiliate KCNC.
While it isn't unusual this time of year for hundreds of elk to roam around the course, it is the first time in at least 15 years that a golfer has been gored, according to Cyndi Karvaski, a spokeswoman for Denver Parks and Recreation.
"They are just all over the course but people can play through," Karvaski told CNN. "There is signage posted around the course to warn golfers to stay away from the elk."
In video footage recorded by KCNC, elk can be seen laying on the course under trees as golf carts drive by what appears to be just several feet away.
Road to recovery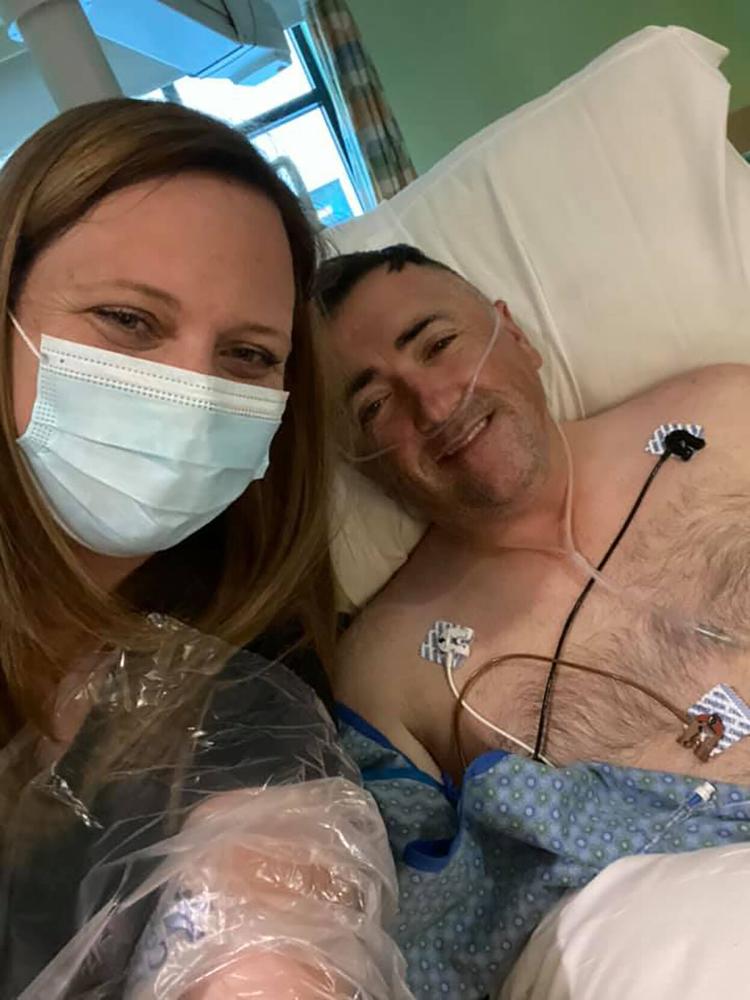 Bornhoft seemed to be in good spirits as he talked to CNN from the hospital on Tuesday and he said he is making steps in the recovery process. His wife, Megan, has been able to visit him and be by his side.
"I am so very thankful that this buck struck where it did because things could have looked much different right now!" she posted to Facebook. "I'm blessed to be sitting next to my husband, even if it's masked up in a ICU room."
Bornhoft broke down in tears as he talked about his seven children and how he knows this is hard for them to see their dad in pain. But he said they have been able to keep in touch through video chats.
"All in all, it was a wild experience," he said. "I would've never thought going to a golf course I'd be jabbed by an elk."
Singapore will pay citizens to have a baby during the pandemic
Singapore will offer a one-time payment to aspiring parents during the coronavirus pandemic.
The country's deputy prime minister said the incentive would help reassure people who face financial pressure and are worried about their jobs.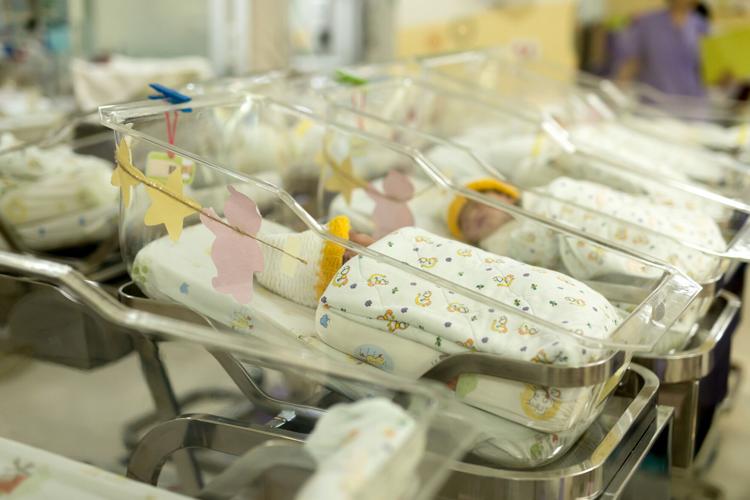 "We have received feedback that Covid-19 has caused some aspiring parents to postpone their parenthood plans," Heng Swee Keat told lawmakers on Monday.
"This is fully understandable, especially when they face uncertainty with their income," he added.
Heng said the payment would help parents with expenses, but he did not confirm how much would be paid out.
Despite a largely successful public health response to the pandemic, Singapore's economy has been thrown into a deep recession.
GDP likely shrank 12.6% in the second quarter compared to the same time the previous year, marking "the steepest drop on record," according to economists.
Singapore has one of the lowest birth rates in the world, a statistic that successive governments have attempted unsuccessfully to reverse.
The fertility rate now stands at just 1.14 births per woman, according to its national statistics body.
That places it level with Hong Kong, according to the World Bank. Only South Korea and the US territory of Puerto Rico have lower rates.
For a country to naturally repopulate itself, women must have 2.1 babies on average — though most developed countries are now below that level, as a decline in the proportion of couples and the lessening importance of traditional gender roles have seen fertility rates drop globally.
Singapore has struggled to reverse the trend since the 1980s, with public campaigns encouraging childbirth and a host of financial and tax incentives unable to stop its slump.
"Like many developed countries, Singapore's key population challenges are our low fertility and an ageing population," the government wrote in a 2011 report. "Our aim is to achieve a sustainable population that supports both economic growth and social cohesion, so that Singapore remains vibrant and liveable."
The country has avoided the worst of the global pandemic, isolating suspected cases early, imposing strict lockdowns when clusters of infections became apparent, and using technological innovations to rush out a contact tracing network. Just 27 people have died as a result of Covid-19, according to Johns Hopkins University.
CNN's Isaac Yee contributed to this report.