NEW YORK — Cicadas are poised to infest whole swaths of American backyards this summer. Maybe it's time they invaded your kitchen.
Swarms of the red-eyed bugs, who are reemerging after 17 years below ground, offer a chance for home cooks to turn the tables and make them into snacks.
Full of protein, gluten-free, low-fat and low-carb, cicadas were used as a food source by Native Americans and are still eaten by humans in many countries.
"We really have to get over our dislike of insects, which is really strong and deep-seated in most people in our culture," said David George Gordon, author of "Eat-a-Bug Cookbook" and known as the Bug Chef.
"You could make stir fry. You can mix them into dough to make bread — make banana bread, let's say. You can batter them and deep fry them, which I think would be my favorite way," he said.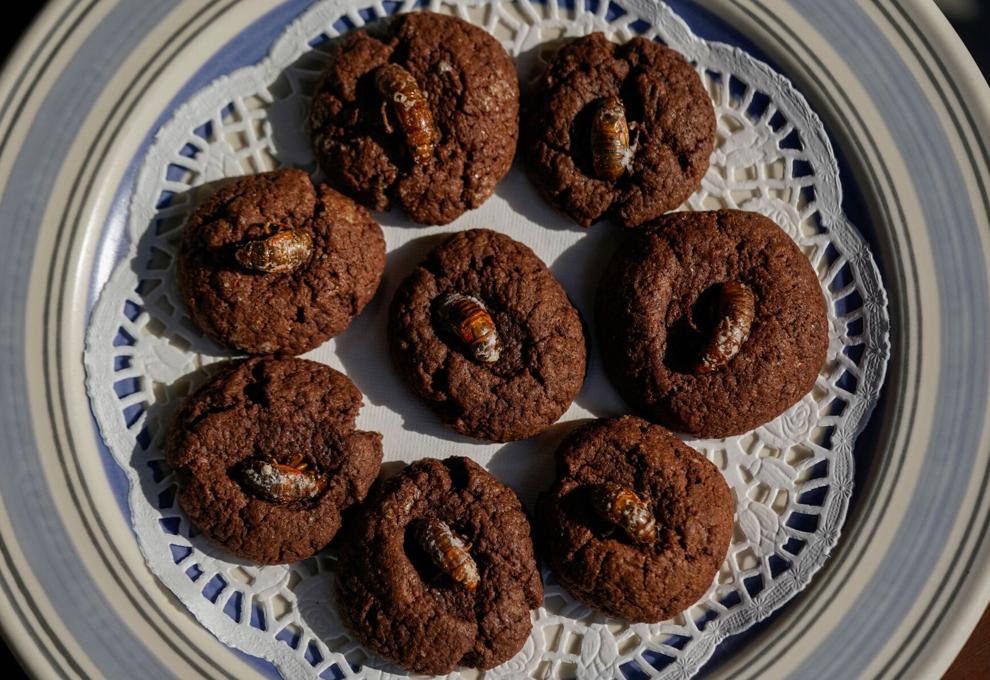 This year's group is called Brood X, and they can be seen in 15 Eastern states from Indiana to Georgia to New York. Their cacophonous mating song can drown out the noise of passing jets.
When eating adult cicadas, it's advised to pull the wings and legs off to reduce the crunchiness. But Gordon advises home cooks to gather the cicadas when they're nymphs, before their body armor hardens and while they are still soft and chewy, like soft shell crab.
He puts them in the freezer, a humane way to kill them. Once defrosted, cicadas can become a pizza topping like sundried tomatoes, or replace shrimp in any recipe. Others have followed his lead, including a University of Maryland cookbook dedicated to the cicada.
Gordon's "Eat-a-Bug Cookbook" came out in 1998 and was greeted by hostility and jokes from late-night TV hosts. "But of course, over the last 20 years, this is moving in the direction of being normalized," he said.
Gordon pointed to the rise of foodie culture and thrill-seeking eaters like chef Andrew Zimmern, but especially to a 2013 report from the United Nation's Food and Agriculture Organization as a turning point in interest in edible insects. The report estimated that insect-eating is practiced regularly by at least 2 billion people around the world, and that dozens of species have been documented as edible, including cicadas.
Here's Gordon's recipe for a pizza with artichoke, mozzarella — and cicadas.
CICADA PIZZA
Yield: 4 servings
Dough:
1 teaspoon active dried yeast
1 teaspoon sugar
3/4 cup warm water
1 tablespoon olive oil
2 1/4 cups bread flour
1/3 cup cornmeal
—
Tomato sauce:
2 tablespoons olive oil
1 onion, finely chopped
1 clove garlic, crushed
1 pound peeled tomatoes, sliced into 3/4-inch chunks
1 tablespoon tomato paste
1/2 teaspoon sugar
1/2 teaspoon chopped fresh oregano
1/2 teaspoon chopped fresh basil
Salt and pepper to taste
—
Toppings:
1/2 cup grated mozzarella cheese
6 marinated artichoke hearts
8 sundried tomatoes in oil
8 subadult periodical cicadas, thawed from frozen or freshly caught
1 teaspoon red pepper flakes
—
Directions:
1. To make the dough, combine the yeast, sugar, and 1/4 cup water. Add this liquid, the 1 tablespoon olive oil, and remaining water to the flour and cornmeal. Mix to a soft dough, then knead on a lightly floured board until smooth and elastic, about 10 minutes.
2. Place dough in a greased bowl and cover with a cloth or plastic wrap. Let rise for 45 minutes or until doubled in size.
3. While waiting for the dough to rise, begin making the tomato sauce. Heat the olive oil in a medium saucepan. Add onion and garlic, and cook until soft.
4. Stir in tomatoes, tomato paste, sugar, oregano and basil. Season with salt and pepper. Cover the saucepan and simmer for 30 minutes, stirring occasionally. Remove from flame.
5. Punch down the risen dough and knead briefly. Place in the center of an oiled 12-inch pizza pan. Press outward, using the knuckles, until dough is evenly spread, filling the pan. Pinch a lip around the edge to contain the sauce. Brush the dough with olive oil.
6. Preheat oven to 425 degrees F.
7. Spoon tomato sauce over the dough. Spread mozzarella cheese uniformly over the sauce.
8. Drain the sundried tomatoes, reserving the oil. Coarsely chop them and the artichoke hearts, artfully arranging the two items over the cheese.
9. Top with fresh or thawed-from-frozen periodic cicadas.
10. Sprinkle the completed pie with 1 or 2 tablespoons of the reserved oil. Bake for 15 to 20 minutes, until the cheese has melted and dough is crisp and golden. Dust with red pepper flakes and serve.