CLAIM: Video shows a banner stating "Betrayed and murdered the Kurdish people" hanging from Trump International Hotel in Las Vegas.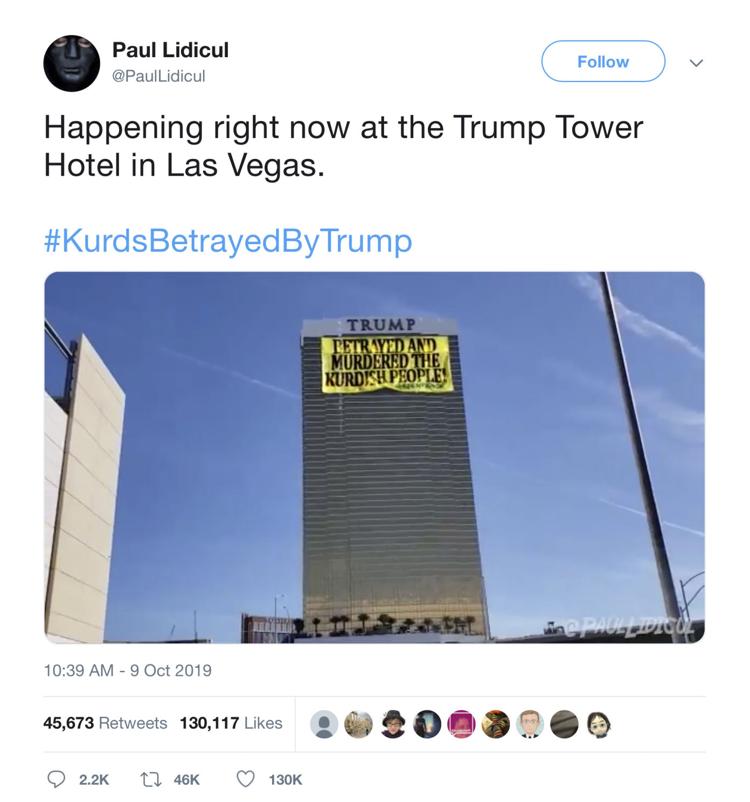 THE FACTS: The video posted on Twitter on Oct. 9 was digitally altered to add a massive yellow and black banner stating "Betrayed and murdered the Kurdish people! Greenpeace" under the Trump name. The video circulated widely on social media platforms, receiving more than 3.3 million views on Twitter alone by midday Friday. The video was created by @PaulLidicul in response to President Donald Trump's decision earlier this week to pull U.S. troops out of northeast Syria, which opened the way to attacks by Turkey on U.S-allied Kurdish forces.
Trump's decision was criticized for abandoning Kurdish allies who helped drive the Islamic State group from the region. Some users criticized @PaulLidicul, a play on the word political, for posting a fake video, but other responded as if it were authentic. "Thank you VEGAS...!! #KurdsBetrayedByTrump," stated one tweet that shared the video.
The same video was used by @PaulLeeTicks, a now suspended Twitter account, to create a similar post, which showed a banner on the hotel stating "ConcentrationCamps! Greenpeace." Greenpeace USA responded to the @PaulLidicul post tweeting, "We want to make clear that this is a computer generated animation and not executed by Greenpeace." Travis Nichols, media director for Greenpeace USA, told the AP that the group does not know why their name was included on the banner. "We do real action in real places, and take real risks," Nichols said. In July 2017, Greenpeace activists hung a banner off the Trump tower in Chicago. Trump hotel officials did not respond to requests for comment.