This week in odd news: Owl crashes oil change, cannabis club rolls 100-foot-long joint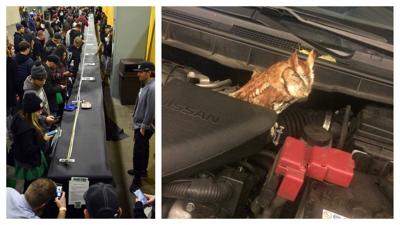 Oil change turns into owl sighting, bird named 'Shazam'
SALEM, N.H. (AP) — A routine oil change has turned into an unusual owl sighting for one car owner.
The police department in Salem, New Hampshire, said Friday a mechanic popped the hood of a car and found an Eastern Screech owl sitting on the engine. The department said the car owner had no idea how the owl got there. Police guessed he was either seeking warmth or chasing a mouse.
Police posted photos of the owl on Facebook. They named him "Shazam" and said he was very friendly.
Shazam was taken to a wildlife rehabilitation center for evaluation.
Man claims father-in-law used toupee to scare him
NEW YORK (AP) — A New York City man who says he has a fear of the Tasmanian Devil claims his father-in-law repeatedly scared him with a toupee that looks like the cartoon character.
The New York Post reports Yunes Doleh was arrested in November for violating a restraining order filed by his son-in-law, Mazen Dayem. The 36-year-old says Doleh terrorized him at a funeral by waving the hair piece and snarling.
The Staten Island man says he's had a fear of the Tasmanian Devil his entire life. Dayem claims his father-in-law has taken advantage of his phobia since 2013. Dayem filed a restraining order in September following an altercation with Doleh at a restaurant.
An attorney for Doleh labeled the case a "family dispute."
Doleh faces charges of criminal contempt and aggravated harassment.
Colorado man arrested after offering weed for sheriff's SUV
COLORADO SPRINGS, Colo. (AP) — A Colorado man landed in jail after offering to trade illegal homegrown marijuana for an SUV listed on Craigslist — a vehicle that happened to be owned by a sheriff.
The Gazette reports that Teller County Sheriff Jason Mikesell recently received a text from a 39-year-old Vail man offering to buy his SUV.
The man sent photos of the product, and Mikesell says he showed the texts to detectives. A meet up was scheduled in Woodland Park in late November.
The man and a 41-year-old woman arrived for the swap and were arrested. Authorities say they found about 4 pounds (2 kilograms) of illegal marijuana in the duo's car.
The man and woman were charged with possession with intent to sell.
Mikesell says he won't relist the SUV on Craigslist.
All 1,694 residents of US town becoming Scottish landowners
SCOTLAND, Conn. (AP) — Residents of the rural town of Scotland, Connecticut, are becoming lords and ladies in the United Kingdom country of the same name.
The Scottish land preservation company Highland Titles said Tuesday it's gifting all 1,694 residents 1 square foot (0.09 square meters) of land on its nature reserve in Glencoe Wood, Scotland. The residents will get courtesy titles of Lord or Lady of Glencoe and instructions on how to visit their plots.
The company sells forest land ranging from 1 square foot (0.09 square meters) to 1,000 square feet (93 square meters) so they can't be developed.
Scotland First Selectman Dan Syme says the Connecticut town was settled by a Scotsman named Isaac Magoon in 1700 and celebrates that heritage by hosting an annual Highland Festival.
Highland Titles says residents have to call Town Hall to claim their free plots.
Voice of a grocery store angel: Shoppers get operatic treat
WATERTOWN, Mass. (AP) — A Massachusetts grocery store employee has surprised shoppers with his operatic renditions of popular Christmas music.
Tony Russo, owner of Russo's Market in Watertown, tells The Boston Globe he had no idea Guilherme Assuncao could sing when the 23-year-old volunteered to sound check equipment Friday night for an upcoming weekend performance.
His voice shocked his co-workers, and Assuncao was invited back to the stage to perform for shoppers. One woman who visited the store Saturday says everyone stopped what they were doing when they heard Assuncao sing.
One video of him performing "O Holy Night" has since garnered more than 56,000 views on Facebook.
Assuncao moved from Brazil to the U.S. in 2015 to attend school. While he hasn't performed in years, Assuncao says "music is my life."
Mississippi boy dials 911 to say Grinch stealing Christmas
BYRAM, Miss. (AP) — A 5-year-old Mississippi boy called 911 to report that the Grinch was trying to steal Christmas.
The Clarion Ledger reports that it happened Saturday in the Jackson suburb of Byram. An officer went to TyLon Pittman's home to assure him that the green creature wouldn't take anyone's gifts.
TyLon had been watching videos online when he became alarmed about the Grinch. He told his mom, Teresa Pittman, that he dialed 911, but she says she didn't quite believe him until an officer knocked on the door.
The officer, Lauren Develle, says she grew up loving the character created by children's author Dr. Seuss.
TyLon says has a plan in case the Grinch does appear: he says he will wrestle him and hold him until the police show up.
Massachusetts marijuana aficionados roll 100-foot-long joint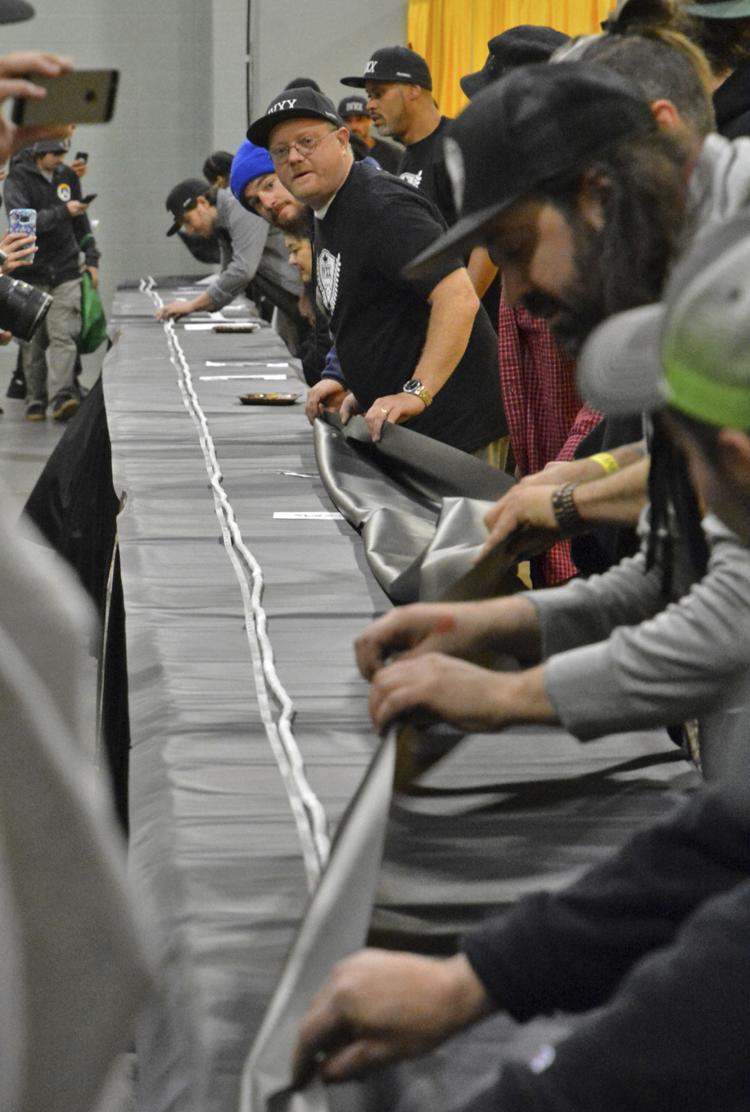 WORCESTER, Mass. (AP) — Massachusetts marijuana aficionados have rolled a 100-foot-long (30.48-meter) joint.
The effort was led by Boston-based cannabis club and advocacy group Beantown Greentown during an exhibition of pro-marijuana vendors and supporters at the DCU Center in Worcester on Saturday.
They perfected a secret rolling technique using 1,000 grams (35.27 ounces) of their own pot trimmings.
The Telegram & Gazette reports that people crowded around to take selfies when the final product was displayed Saturday. Thousands of people attended the exhibition.
The newspaper says 55-year-old Denise Fournier, of Gardner, Massachusetts, asked the question on everybody's mind: "When are you going to light it up?"
Massachusetts last year voted to legalize the possession and consumption of marijuana. A Cannabis Control Commission is writing regulations to govern the sale of cannabis.
Georgia theme park offers free tickets for eating crickets
VALDOSTA, Ga. (AP) — A Georgia theme park is offering guests a free ticket if they eat a cricket.
The giveaway may bug some people. But Wild Adventures Theme Park in Valdosta was giving away T-shirts and free admission Saturday to the first 100 guests to gobble up a roasted cricket.
The challenge was meant to promote the park's upcoming attraction called MEGABUGS! The Valdosta Daily Times reports the interactive insect attraction will open in March.
Exhibits will include giant replicas of insects including a 15-foot (4.5-meter) dragonfly, a 26-foot (8-meter) hissing cockroach and a 50-foot (15-meter) millipede.
Wild Adventures officials said in a news release the exhibits will showcase the unique sounds and movements that insects make.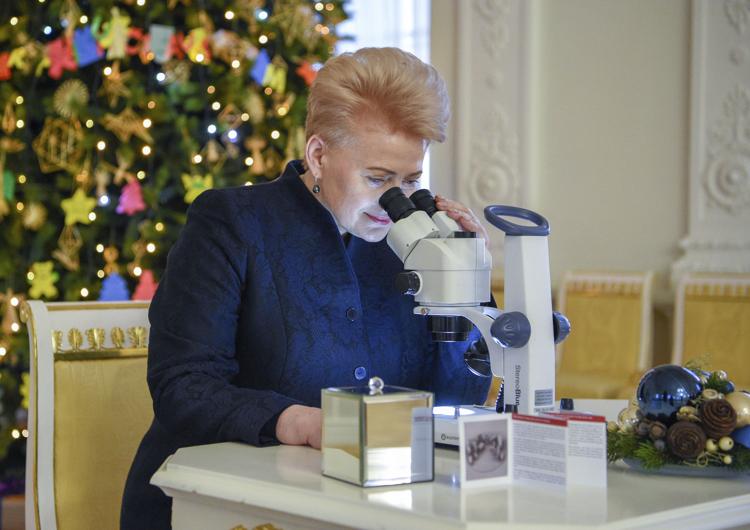 Pope Francis needs a microscope to eye Lithuanian crib
VILNIUS, Lithuania (AP) — Lithuania has given Pope Francis a Christmas present invisible to the naked eye: a Nativity scene where baby Jesus is smaller than a human cell.
Lithuanian President Dalia Grybauskaite on Friday looked through a microscope to see a replica of the crib at Vilnius's downtown Cathedral Square, a copy of the nativity scene that was given to Francis by Lithuanian diplomats earlier this month.
She said it took three months for Lithuanian scientists and students to create the minuscule crib from a 3D scan of the life-size crèche, reducing it 10,000 times.
Francis plans to visit the Baltics next year. Details about Francis' trip to Lithuania, Latvia and Estonia have not been released yet but he is expected in the fall of 2018.
Couple gets married underwater in the Florida Keys
KEY LARGO, Fla. (AP) — After a four-year courtship, a British Army sergeant and a former diving instructor have married underwater in the Florida Keys National Marine Sanctuary.
The couple used an underwater tablet Thursday to exchange wedding vows beside Molasses Reef off Key Largo.
In 2013, Thomas Mould, of Leicester, England, traveled on an Army adventure training dive trip to the Amoray Dive Resort in the Keys, where Sandra Hyde worked as an instructor.
The couple connected. Hyde traveled to Leicester a few times, and he visited her in the states.
They decided to marry and planned a summer wedding in an old English church but then decided an underwater wedding in the Keys would not only be more appropriate, but more cost-effective.
The couple is honeymooning in the Keys, before returning to live in England.
Santa Claus helps Casper police solve shoplifting case
CASPER, Wyo. (AP) — Casper police say they arrested a shoplifter with the help of a man dressed as Santa Claus.
The Casper Star-Tribune reports the man who only identified himself as St. Nick said he noticed the thief drop something among the trees at his Christmas tree lot on Monday.
He says he did not think the act was suspicious until he noticed a police officer.
A Rocky Mountain Discount Sports store employee had accused a man of shoplifting.
The suspect initially denied it until St. Nick showed Sgt. Scott Jones the grove of trees where the thief had stashed the stolen merchandise.
Jones says the thief admitted to the theft, but was not arrested.
Jones says he was instead cited for the crime.