From frozen gators to a butcher armed with a sausage battering ram, here's a look at some of the week's strangest headlines from around the world.
Chilly 'gators poke heads above ice to cope with bitter cold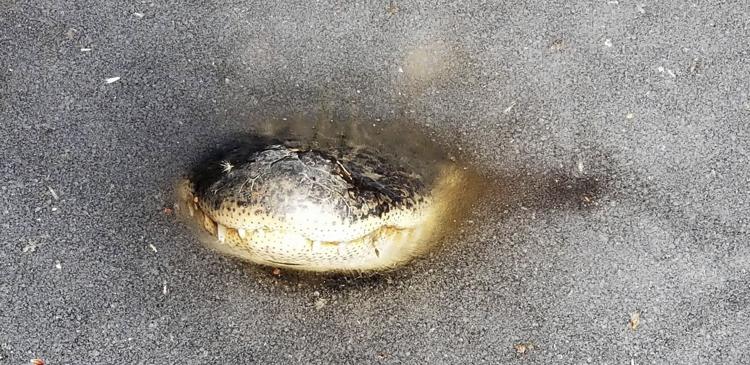 OCEAN ISLE BEACH, N.C. (AP) — Although North Carolina's recent bitter cold snap deterred plenty of humans from sticking their noses outdoors, a group of alligators stuck their snouts into the frost and hunkered down in the name of survival.
When the alligators at Shallotte River Swamp Park recently found themselves beneath a sheet of ice as temperatures plunged below freezing, they poked their nostrils above the surface so they could get some air.
The odd scene was a matter of survival for the gators. When they get cold, they enter a period of dormancy known as brumation. They slow their metabolism and their breathing, and before the surface ices over they poke their noses out of the water to continue breathing.
Park officials say the alligators will be on the prowl once temperatures warm up.
Just shy of her 100th birthday, Mississippi woman bags deer
MORGANTOWN, Miss. (AP) — A 99-year-old hunter in Mississippi wants to know why people are making a big fuss about her recent kill. It was a doe after all, not a prized buck.
The Clarion Ledger reports that Bertha Vickers used a .243 Winchester rifle to kill a doe recently a few miles from her rural home. Relatives posted pictures of Vickers and her kill on Facebook, and people sent messages of congratulations.
Vickers says she doesn't know "why everybody is making such a big deal about it" because it was "just a doe" and not a buck.
Vickers lives near the farming community where she grew up in northern Mississippi, outside Starkville. She still mows her own yard and enjoys squirrel hunting.
She turns 100 on Tuesday.
Police: Snow thwarts shoplifter in North Dakota
MINOT, N.D. (AP) — Authorities say a North Dakota man who wheeled a shopping cart with stolen merchandise out of a Hobby Lobby craft store was stopped by snow.
Police say 22-year-old Dustin Johnson filled up a cart with about $4,000 in products at a Hobby Lobby store in Minot on Wednesday. After the cart got stuck in the snow in the parking lot and tipped over, Johnson allegedly ran off.
Police say that along with the merchandise, Johnson left behind his wallet — which contained identification with his address.
Johnson is charged in Ward County with theft of property. Court documents do not list a lawyer for him.
Bank theft suspect nabbed applying for police dispatch job
PHOENIX (AP) — A former Bank of America worker suspected of theft chose the wrong employer when applying for a police dispatch job.
The Cottonwood Police Department in central Arizona's Yavapai County says the case involving 32-year-old Alberto Lopez of Phoenix popped up in law enforcement records when he applied to be a dispatcher.
Police spokeswoman Sgt. Monica Kuhlt said Monday Lopez was suspected of stealing $5,000 from a Bank of America branch in Yavapai County between July and September 2016. He quit and moved to Phoenix and refused to cooperate, missing appointments and refusing to answer phone calls.
After Lopez applied for the dispatch position in December, officers had him come in for an interview last week and arrested him on a felony theft warrant.
He didn't get the job.
Rats! DC wages war against resurgent rodents with dry ice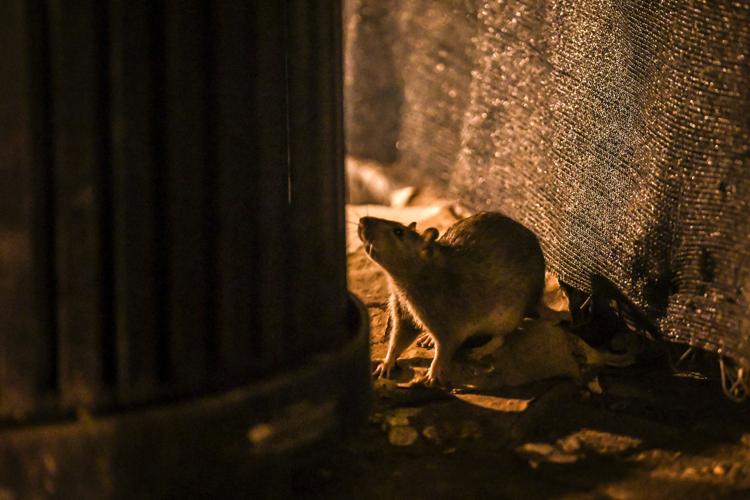 WASHINGTON (AP) — Any mists spotted rising over the swamp may just be Washington wielding its newest weapon in its never-ending war on rats: dry ice.
The District of Columbia's rodent control division's program manager, Gerard Brown, tells The Washington Post the frozen form of carbon dioxide complements the poison the city uses, as reported rat complaints reach a four-year high.
Last month, Brown and Mayor Muriel Bowser oversaw a demonstration in which health department staffers stuffed dry ice into a northeast Washington alley rathole. As the ice smoked, the emanating carbon dioxide suffocated the rats, according to Brown's explanation.
Residents are encouraged to purchase their own dry ice. The city is working on usage guidelines.
Department of Energy and Environment Director Tommy Wells says dry ice is relatively humane, cheap and pet-friendly.
New church bells, constant 'Amazing Grace' draws fire
ALBUQUERQUE, N.M. (AP) — An Albuquerque resident says new bells and the constant playing of "Amazing Grace" by a Latino Catholic church have created a living hell for her.
KOB-TV in Albuquerque, New Mexico, reports Bernadette Hall-Cuaron says she can no longer stand the regular ding-dongs coming from Our Lady of Guadalupe Church's new electronic bell system.
Hall-Cuaron says the bells ring about 20 to 25 times a day and its keeping people from church because the sounds are so annoying. She says bong songs make it hard for her to sleep.
Pastor Rev. Joe Vigil says he's responded to the complaints by lowering the volume and moved the bells from 6 a.m. to 8 a.m.
The church is located in Albuquerque's North Valley neighborhood.
Butcher trapped in freezer uses sausage to bash his way out
LONDON (AP) — A British butcher who got locked in a freezer says he was saved by a frozen sausage that he used as a battering ram.
Chris McCabe says he became trapped in the walk-in freezer at his shop in Totnes, southwest England, last month when wind blew the door shut. The safety button to open the door had frozen in the -20 C (-4 F) chill.
McCabe said he tried unsuccessfully to kick the button free before picking up a 1.5 kilogram (3.3 pound) black pudding, a form of blood sausage.
McCabe told website Devon Live that he used the meaty tube "like a battering ram" and managed to unstick the button after several blows.
The grateful butcher told the Daily Mirror: "Black pudding saved my life, without a doubt."