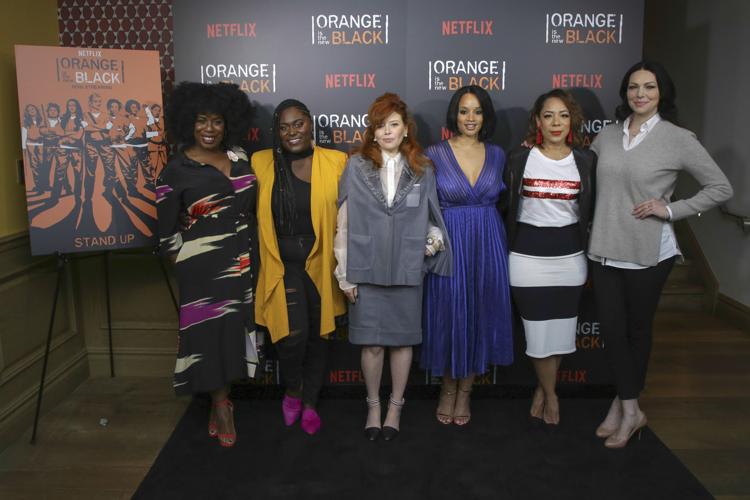 It's a love- and action-packed month for new movies and shows coming to Netflix. Catch "Jurassic Park" films, "Get Smart" and "The Boondock Saints" as well as "Penelope," "Chocolat" and "The Princess Diaries." (If you're not looking for a fairy-tale happy ending, "Her" and "Blue Valentine" will be streaming.)
Also arriving are new seasons of Netflix originals "Orange is the New Black," "El Chapo" and "Comedians in Cars Getting Coffee." Other comedic additions include specials from Kevin Hart and Jim Jefferies as well as "The Comedy Lineup," a showcase of diverse up-and-coming comedians.
Before they're gone, be sure to catch the "Bring it On" and "Lethal Weapon" franchises as well as romantic classics "Along Came Polly," "Breakfast at Tiffany's" and "A Cinderella Story." (Yes, the 2004 Hilary Duff film is a must-see.)
WHAT'S COMING TO NETFLIX
July 1
Blue Bloods: Season 8
Bo Burnham: what.
Chocolat
Deceived
Finding Neverland
Get Smart
Happy Gilmore
Hawaii Five-O: Season 8
Interview with the Vampire
Journey to the Center of the Earth
Jurassic Park
Jurassic Park III
Madam Secretary: Season 4
Menace II Society
NCIS: Season 15
Pandorum
Penelope
Queens of Comedy: Season 2
Rica, Famosa, Latina: Seasons 1-4
Scooby-Doo
Scooby-Doo 2: Monsters Unleashed
Spanglish
Stealth
Swordfish
The Boondock Saints
The Lost World: Jurassic Park
The Princess Diaries
The Voices
Traitor
Troy
Van Helsing
We Own the Night
We the Marines
What We Started
July 2
Dance Academy: The Comeback
Good Witch: Season 4
King of Peking
Romina
The Sinner: Season 1
July 3
July 5
July 6
Anne with an E: Season 2
Comedians in Cars Getting Coffee: New 2018: Freshly Brewed
First Team: Juventus: Part B
Free Rein: Season 2
Inside the World's Toughest Prisons: Season 2
Sacred Games
Samantha!
Somebody Feed Phil: The Second Course
The Fosters: Season 5
The Legacy of a Whitetail Deer Hunter
The Skin of The Wolf
White Fang
July 7
July 9
Lockup: Extended Stay: Collection 1
July 10
July 12
July 13
How It Ends
Jim Jefferies: This Is Me Now
Kevin Hart: Let Me Explain
Sugar Rush
The Epic Tales of Captain Underpants
July 15
Bonusfamiljen: Season 2
Going for Gold
The Joel McHale Show with Joel McHale: Part 2
July 20
Amazing Interiors
Dark Tourist
Deep Undercover: Collection 3
Duck Duck Goose
Father of the Year
Fix It and Finish It: Collection 3
Home: Adventures with Tip & Oh: Season 4
Jimmy: The True Story of a True Idiot
Last Chance U: EMCC & Life After
Last Chance U: INDY: Part 1
Luna Petunia: Return to Amazia: Season 2
July 22
An Education
Disney's Bolt
July 24
The Warning
Iliza Shlesinger: Elder Millennial
July 27
Cupcake & Dino — General Services
Extinction
Orange Is the New Black: Season 6
Roman Empire: Reign of Blood: Master of Rome
The Bleeding Edge
The Worst Witch: Season 2
Welcome to the Family
July 28
Shameless: Season 8
The Company Men
July 29
Her
Sofia the First: Season 4
July 30
A Very Secret Service: Season 2
July 31
Terrace House: Opening New Doors: Part 3
Arriving in July (Date Not Announced)
WHAT'S LEAVING NETFLIX
July 1
Alive
Along Came Polly
An Honest Liar
Beerfest
Before Midnight
Bring It On
Bring It On Again
Bring It On: All or Nothing
Bring It On: Fight to the Finish
Bring It On: In It to Win It
Cocktail
Extremely Loud and Incredibly Close
Lethal Weapon
Lethal Weapon 2
Lethal Weapon 3
Lethal Weapon 4
Little Women
Michael Clayton
Midnight in Paris
Mixed Signals
More Than a Game
Pandemic
Piglet's Big Movie
Rugrats Go Wild
Scary Movie
Scream 3
Terminator 3: Rise of the Machines
The Art of War
Tropic Thunder
V for Vendetta
July 2
July 8
Alpha & Omega: Journey to Bear Kingdom
Real Husbands of Hollywood: Seasons 1-5
July 9
July 11
Alice Through the Looking Glass
July 14
July 15
Convergence
Lockup: State Prisons: Collection 1
Small Is Beautiful: A Tiny House Documentary
July 16
July 29
July 30
A Cinderella Story
Hurricane of Fun: The Making of Wet Hot
Swing State
___
RedEye is a publication of the Chicago Tribune.
Distributed by Tribune Content Agency, LLC.